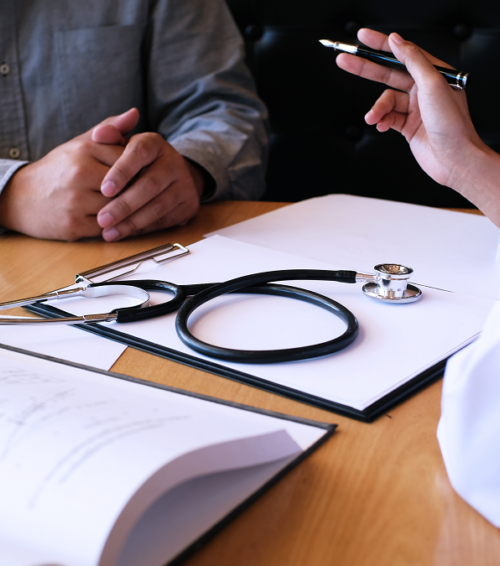 The medical and dental fields may be hard-hit by shortages, but they aren't the only ones facing depleted staffing levels. While doctors and dentists respectively grab the brunt of the headlines, a lack of qualified mental health professionals also looms — with psychiatrist roles in particularly short supply.
Signs of a psychiatrist shortage have been present for some time now. A 2016 report by the U.S. Health Resources and Service Administration (HRSA) and Bureau of Health Workforce (BHW) suggests the need for psychiatrists outpaced supply as far back as 2013, and perhaps earlier. The same research suggests the gap(s) will continue to grow through 2025, with patient need, talent supply, and geographical distribution all lending to the disparity.
For a nation in the grips of various mental health crises, this news arguably couldn't have come at a worse time. One in 25 U.S. adults will suffer mental health effects that "substantially [interfere] with" daily life in a given year, per the National Alliance on Mental Illness. Meanwhile, the most recent National Institute of Health research suggests nearly 20 million Americans struggled with some form of substance abuse in 2014–2015, a number that may well have risen with the depth and duration of the opioid crisis.
Moreover, a growing school psychologist shortage may deepen these and other mental health issues. Because school-based professionals are often the frontline in screening and prevention — and serious mental health issues rarely resolve on their own — this lack of access could lead to increased mental illness as adolescents become adults.
Is the U.S. Short on Mental Health Professionals?
Combined, these factors present a perfect storm of negative mental health outcomes, with each unresolved issue begetting another. Like the physician shortage, heading off the psychiatrist shortage will require substantial effort, which in turn necessitates an unfettered examination of the causes behind the mental health shortage.
Surprisingly, one such factor comes from a change widely considered to be a net good: better access to mental health coverage. Out-of-pocket costs and the stigma surrounding mental health have historically kept eligible persons from seeking treatment, but advancements like the ACA and the Mental Health Parity and Addiction Equity Act have reduced costs and enhanced availability. While this increased need wouldn't ostensibly cause greater incidence of mental health problems, it does deepen the existing shortage and leave people who can now seek help struggling to find appropriate resources.
Other components of the shortage have little to do with rising demand. Per research from the American Association of Medical Colleges (AAMC), more than 60 percent of acting psychiatrists are over the age of 55. This stands in contrast to internal medicine/pediatrics (93 percent), interventional cardiology (90 percent), critical care medicine (84 percent), and dozens of other specialties where most professionals tend to be under 55 years of age.
Related figures put psychologists in a similar position: By some estimates, more than half of practicing psychologists are over 50, and nearly 30 percent are over 60. With most studies projecting the psychiatrist shortage to run into the mid-2020s at minimum, it's not hard to see the top range having to retire at a highly inopportune time.
Geographic distribution — a common feature in the dental and physician shortages — appears to be a leading factor in the looming psychiatrist shortage as well. According to New American Economy, 80 percent of all rural counties in the U.S. "do not have a single psychiatrist." As with the dental and physician shortages, concerns surrounding overall economic viability likely keep eligible professionals from setting up shop in these underserved regions.
Possible Solutions to the Mental Health Shortage
There's no single fix to the psychiatrist shortage. The ideal solution is one that approaches the problem from multiple angles, with the following strategies showing the most promise:
Immigration: As the New American Economy white paper notes, foreign psychiatrists and psychologists will play a major role in meeting growing mental health needs. Following this, plans to reopen "premium processing" for H-1B Visas — a widely used solution in the early days of the physician shortage — in late 2018 will have an immediate impact on the nation's supply of mental health professionals.

More Students and Practical Advancement: A 2015 report regarding the increased number of medical students choosing psychiatry is certainly promising for the field's ability to meet demand. So too is the rise of collaborative care medicine, a practice in which a multidisciplinary team oversees patients (and takes the load off individual mental health professionals by proxy). In tandem, rising staff stock and a continued willingness to try newer, more efficient care models should ease the psychiatrist shortage by addressing its most troublesome feature: lack of access to care.

Staff Services and Telepsychiatry: For rural mental health facilities and others struggling to meet demand, locum tenens staffing services are a perfect way to fill temporary gaps or longer-term absences like LoAs. These services can often have a professional at your facility within a day, if necessary. Telepsychiatry platforms such as Barton Telehealth, which connect patients with remote professionals via videoconferencing software, further diminish talent-distribution problems.
Whatever the specialty, shortages are a serious problem, with potential to affect patient outcomes, community health, and facility performance. These solutions are critical for improving the country's overall mental health climate.
How has the mental health staffing shortage affected your facility? Share your thoughts with us on Twitter!