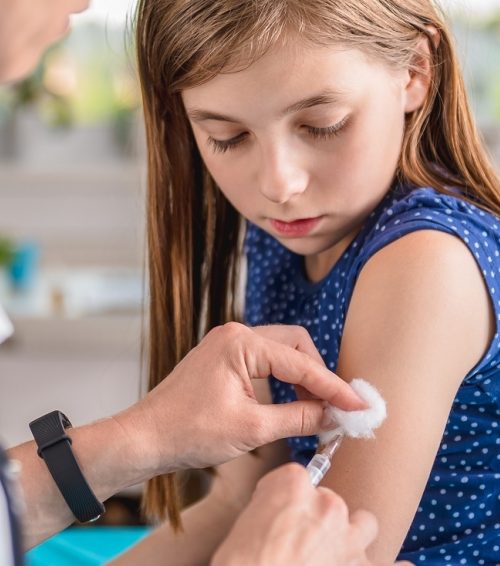 For patients, flu shot season is barely a blip on the radar—it's the day you leave the office, pick the kids up from school a little early, and head to your doctor's office or the nearest convenient walk-in clinic.
For healthcare facilities, things are a little more complex. Inexpensive and immensely popular, the vaccinations have become the french fries (as in, "Do you want a flu shot with that?") of an increasingly consumerized healthcare industry.
By this point, everyone's added a quick flu shot to the physical or routine checkup they popped in for. The result, as the above-linked resource notes, is a $4-to-$5-billion industry unto itself, with barriers to administration low enough almost any healthcare organization can offer them alongside other services.
Of course, any service that makes money hand-over-fist on one side and holds substantial population health benefits on the other can hardly be called a bad thing. Even then, the same ease and accessibility that make this manner of vaccination so compelling can be a double-edged sword for individual facilities, which must provide their normal slate of services alongside a large-and-growing influx of flu shot patients.
With the widespread geographical distribution of flu activity reported in nearly every US state, this all but guarantees "flu shot season"—which seems to begin at an earlier date each year and effectively includes everyone above the age of 6 months, per CDC recommendations—will have some potential to disrupt operations.
For organizations facing staffing and scheduling problems due to flu shot overbooking, locum tenens services represent perhaps the single best way to affordably shoulder the increase in activity without overworking personnel or scheduling patients so far out they decline (and grumble about the substandard experience online!).
Just as important, the added help can also be of huge benefit to individual employees, who may have even less capacity to deal with overwork during an inherently stressful time like the holiday season.
Overwork, Overwait, Satisfaction, and Burnout: Interlinked Factors Worth Watching During Flu Shot Season
A patient, irritated at both the length of time it took to get an appointment and the amount of time she's spent in the waiting room thus far, taps her foot and stares at the time on her phone screen, intermittently (and loudly) sighing. Front desk staffers, who can feel the growing pressure in the waiting room like heat from an oven, are increasingly surly to the primary care-giving personnel. By the same token, caregivers feel so stretched-thin, so overworked, it is hard to think about anything but the upcoming end of their shift.
This hypothetical situation, adapted from a scene that plays out untold thousands of times every day across the country, only grows more likely as the number of appointments in a given facility grows. It also calls to a cycle that is every bit as vicious as it is counterproductive in a healthcare setting: overbooked schedule begets irritated patient begets overworked staff, a combination that can start on any step of the chain and have an immense negative effect on both employee and patient satisfaction.
Those who have experienced this cycle—from either side of the counter—can undoubtedly see the positive changes that come with added help. While it hardly makes sense to bring on a new full-timer for a temporary, seasonal spike in activity, a locum is available to be there for the specified time the organization needs the extra help. An added benefit, they can arrive with little-to-no advance notice, bringing with them the precise skills, qualifications, and experience the organization requests.
In this regard, a locum's presence has something to offer everyone in the healthcare chain.
Facilities get more appointments handled in a more timely manner, while their employees get a more realistic workload and less of the mounting pressure that comes with a full-booked wait-list.
This holds whether the facility assigns the locum a set number of all visits or assigns them to a specific task (like flu shots). Likewise, patients spend less time in the waiting room upon their arrival. Call-ins, meanwhile, spend less time between their inquiry and the date of their visit; since the facility can depend on help being there when they need it, even an anticipated increase in demand needn't alter their short-term schedule planning.
Added Activity Doesn't Need to Bring Added Stress
In some regards, flu shot season is like any other expected spike in activity. In others, it is a category unto itself: although the added revenues and greater ability to serve the community make offering the shots a no-brainer for many facilities, both patients and providers are well aware of the added wait they can tack on.
Instead of forcing patients to call on secondary locations due to excessive wait times—a decision that, while practical on the patient's end, can have serious impact on continuity of care—being able promise (and deliver!) speedy shots without impacting standard appointments is a far better proposition.
In all, then, the strategic staffing of a locum can do much to offset the downsides of flu shot season—and they're probably more affordable for a short or mid-term engagement than you'd think. Why let patients walk or simmer in a waiting room when a better option's available?
How have flu shots helped your organization? Have their inclusion made your job more difficult at times?
Want to learn more about locum tenens with Barton Associates? Fill out the form and one of our representatives will reach out to you!