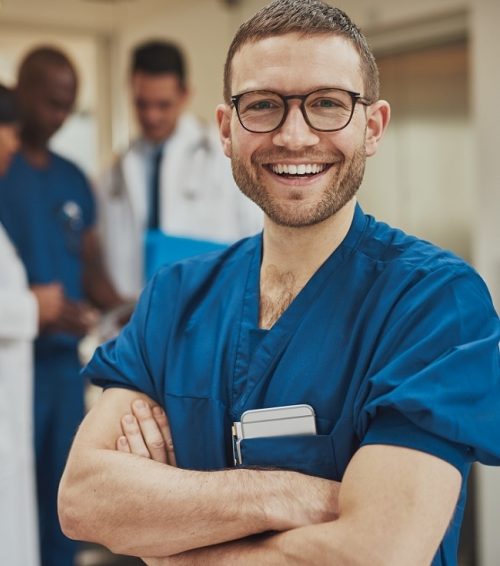 Locum tenens providers fill in when there is a staffing shortage, perhaps due to maternity or vacation leave, retirements or sudden increases in patient numbers, among a variety of other reasons. They are always in demand, and some providers choose to make that their career path, while others only take a few assignments here and there.
With that in mind, it's not everyday you hear physician or dentist in the same sentence as "side gig" or "side hustle" – but it's not unheard of either. As locum tenens becomes more well-known and understood in the healthcare world, an increasing amount of physicians, dentists, CRNAs, and advanced-practice clinicians like PAs and NPs are turning to short-term, temporary assignments for some extra spending money, in addition to their permanent roles.
Physician burnout, working excess of 40 hours a week and struggling to maintain a work-life balance are more common topics of conversation. And now we're talking about adding locum assignments on top of that? Hear me out.
Healthcare professionals need to pursue other interests to stay motivated where they are currently practicing. This could mean trying a different specialty to keep those skills fresh, or simply adding more hours during a holiday season to pocket more cash. Whatever your personal motivation, it could be lucrative to add more to your seemingly full plate.
Extra Income
First things first: let's talk money. In 2016, the average medical school debt averaged $190,000, with about 25 percent of graduates carrying debts higher than $200,000. Particularly attractive for energetic graduates looking to quickly pay off their student loans, locum tenens assignments offer guaranteed income, fast. Rates are traditionally higher in areas with higher patient volume, rural facilities or when positions have been vacant for a length of time, all of which are reasons healthcare staffing agencies exist! Barton places qualified providers in those higher-paying scenarios, and can also provide you with opportunities closer to home, so you can reap the benefits of locum pay without travelling across the country.
Professional Networking
In addition to the extra cash flow, which allows for tax benefits as an independent contractor, locum tenens providers also expand their professional network. Without needing to travel across the country, taking a locum assignment within an hour of your permanent position opens up connections you might have otherwise missed. If travel is your goal, jet-setting off to another state for a weekend here and there will deepen your network of colleagues (and pay generously). New friends and career contacts are invaluable, giving you access to future opportunities, bolstering your professional and personal lives. An added bonus, by taking temporary assignments, you avoid office politics typically found in permanent roles and can focus on what matters: practicing medicine.
"[Locums] is much more free in that you do not have to worry about hospital politics or office management, finances of the practice, nor the many other business considerations. Your schedule is very much up to you, and you can see a wealth of different places, meet many different people, and see many ways that medicine can be practiced. It is a wonderful opportunity to see and learn different ways of approaching problems that give you greater depth of knowledge and experience." -Dr. Mason C.
A Change of Scene
Next, consider the ability to try different specialties. Many providers seek locum tenens when they feel "stuck" in their current role, whether due to lack of employment opportunities or necessity to continue with a less-than-ideal role to pay off student loans. Taking a locum assignment in addition to permanent work helps develop your professional presence and salability. A change of professional scene to experience new environments and challenges will demonstrate your adaptability and productivity, making you an overall better provider. The more varied experience you can garner, the more appealing your work history appears to an employer.
"I like doing the work, it keeps you on your toes. It's nice meeting different people, learning how to do things differently." – Dr. George I.
Intrinsic Benefits
If you don't feel stuck nor tight on budget, consider adding locum tenens as a side gig to act as a fulfilling outlet in your life to rekindle your love of medicine and deepen the connection you have to patients and staff. Many providers seek these short-term, temporary assignments to help out in underserved areas, providing care to patients that would have otherwise gone unseen. Perhaps you only take assignments when there is a natural disaster, or when you have breaks built into your permanent schedule. Whatever the reason may be, the nature of locum tenens work is that of service, and you have the power to bring attention to any deserving cause.
Want to learn more about locum tenens with Barton Associates? Fill out the form and one of our representatives will reach out to you!