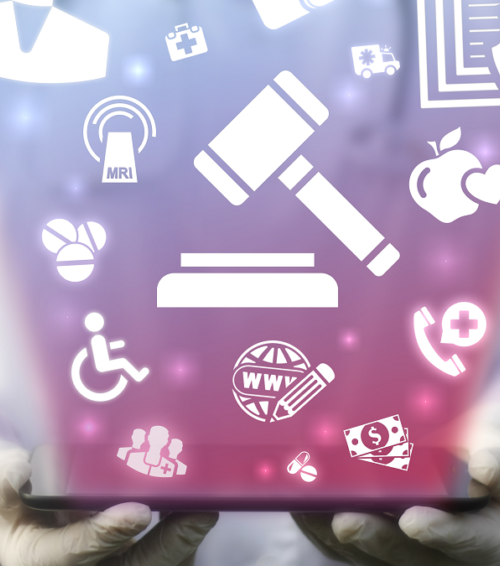 In the wake of the ongoing physician shortage, locum tenens providers — with their wide range of skills and backgrounds, and their ability to quickly and flexibly fill any open position — have been helping facilities continue to care for patients. When the alternative is burnt out staff, overbooked schedules, lengthy wait times, and an unsatisfactory experience for patients and providers, it's easy to understand how locum tenens coverage has been able to help healthcare organizations meet their staffing needs.
Even though these temporary providers tend to be associated with traditional healthcare roles at hospitals and private practices, locum tenens coverage extends further than you might think. Dental offices, correctional facilities, insurance companies, law firms, and many other organizations use locum tenens providers to meet their nontraditional healthcare needs.
Let's take a look at some of the roles locum tenens providers are filling in organizations in and outside of healthcare:
1. Dental Offices
Like with the physician shortage, the dentist shortage is not just the result of a lack of qualified individuals, but a matter of poor distribution of the workforce. As the demand for quality dental care surpasses the supply of dentists available to deliver it, patients in already underserved communities may find it more difficult to find the care they need.
Patients in need of dental care aren't the only ones who suffer, though; dental offices are also at risk. In fact, these facilities will likely face the very same problems as traditional healthcare organizations: overworked and burnt out staff, and an inability to take on new patients and manage the existing patient load.
Fortunately, the benefits of locum tenens coverage extend to the dental industry. Dental offices in need of temporary staffing solutions can quickly fill any position whenever it's needed with the help of a dedicated locum tenens agency. Working with an agency makes it easier to handle the bureaucratic challenges associated with bringing on a new team member, letting you get back to your job: caring for patients.
2. Managed Care Companies and Correctional Facilities
In the healthcare and dental industries, the staffing shortages stem from a lack of available talent. This is not the case in all industries: Public and private correctional facilities are not only suffering from a lack of talent, but from a lack of individuals willing to work within them. As a result, some of these organizations have taken to staffing physicians with disciplinary records — a testament to the difficulty of attracting medical professionals to these roles.
Of course, this simply means prisons and jails are doing their best to meet their inmates' needs and are having a difficult time with it. A lack of qualified providers isn't the only problem these facilities face, either; limited budgets, state and federal pay requirements, and many other reasons contribute to the provider shortage in correctional facilities.
No matter the reason, locum tenens coverage can help managed care companies and the correctional facilities that use their services overcome staffing shortages. First, a locum tenens agency can match correctional facilities with medical professionals who have experience and/or have indicated a willingness to work in corrections, reducing the guesswork, cost, and effort needed to search for these individuals. Second, any locum agency worth its salt will look into each provider's background and ensure he or she is well-suited to the work. With new legislation expanding the autonomy and scope of practice for nurse practitioners and PAs, these providers make a great addition to any correctional facility clinic.
3. Legal and Insurance
Because law firms and insurance companies frequently need medical professionals for short-term, specific events, locum tenens coverage is the perfect solution. Take, for example, a legal firm in need of expert witness testimony, or an insurance company needing a medical consultant for Medicare case reviews: The quick access to healthcare providers offered by a locum tenens agency makes it easier for staffing managers at these companies to find the exact healthcare provider they need, whenever and wherever they need it.
Locum tenens providers are helping more than just the traditional medical industry meet their staffing needs; insurance companies, law firms, correctional facilities, and dental offices are realizing how these healthcare professionals can meet their healthcare staffing needs, too. Maybe your company could also benefit!
Could locum tenens coverage help your company? Check out our free eBook, "Your Ultimate Guide to Locum Tenens Staffing," and start a conversation with one of our dedicated team members today

!