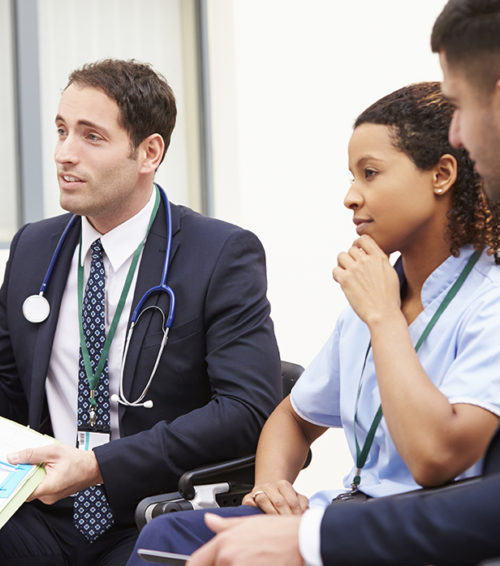 Working in a new environment is a challenge. You have to prove yourself to the current personnel who have been working at the practice, organization, or hospital, and they may have years of experience with the system. The locum has to learn all the proper steps, avoid errors, and minimize reworking.
Onboarding and orientation are extremely important and require new providers to learn and follow processes to avoid defects and improve efficiency, with patient safety as the ultimate goal. At the same time, locum providers are important team members, and will be expected to react quickly to emergencies and ensure everything they are responsible for gets done. The good locum knows they are under the social microscope.
I have managed or directed divisions and departments for 30 years, and episodically performed as a locum tenens physician over the past decade. So I have hired locums and worked as one. Here is what I have learned.
Work With a Locum Tenens Agency That Helps With Credentialing
Credentialing can be a big headache for everyone. Every state, institution, and physician group desires redundant and new documentation. The locum tenens company should provide credentialing support, especially because many hospital staffs are overloaded with new applicants and delays or mistakes can occur.
Providers should not be afraid to get involved in the credentialing process, either. No one knows their career better than they do.
Offer a Thorough Orientation Experience
The new physician, dentist, nurse practitioner, or physician assistant does not know the obvious and subtle intricacies of the system. His or her first challenge is to provide quality patient care, but learning the processes and system are critical to maintaining responsibility, safety, and efficiency.
Do the following to immerse the new provider into your system:
Introduce HCIT (healthcare information technology) and give the new locum support and guidance. Most orientations are superficial and last only 30 minutes, but it takes at least 3–4 days to grasp the intricacies of each system.
Have the locum shadow a currently employed physician for at least one week. The physician should let the locum work independently, but provide passive guidance.
Ensure the locum's patient load is reasonable. This allows the processes and documentation associated with face-to-face patient discussion to be accurate and complete.
Provide phone numbers of colleagues and referring physicians, and make sure they're easily accessible.
Fill the locum in on any protocols they should follow. This is important because it helps the locum provide consistent care. Variability leads to errors and defects, and makes the patient uncomfortable.
Emphasize Effective Communication
Directors reviewing cases with the locum during the day should provide stability. Do not wait for the patient outcome, but instead review the process and see how comfortable the locum is. Outcomes are lagging indicators of success or failure, while the process is the leading indicator. Remember intake-process-output (IPO). Often, the intake and output must be evaluated and modified to improve the lagging indicator of output.
Every system and process can be improved in healthcare. Poor communication is most often the culprit in any defects. Handoffs need to be complete and the plan understood. Review all communication protocols to make sure they are clear to the new doctor. A welcoming environment is important for a thriving transition.
In effect, adapting to a new physician is the perfect time to reevaluate processes and look to improve efficiencies in patient care.
Provide Proactive Support
An overall culture of proactive assistance to the locum for an appropriate orientation time period (and often beyond that time period) should be established. Various challenges will arise, and so a constant mentor is important. A new locum should keep in touch with this mentor throughout the assignment, and the mentor should check in with their locum at least once a day.
When one leaves the stability of their previous location and moves to a foreign state or practice area, they experience various levels of stress. Put yourself in their position.
Manage Interpersonal Issues Wisely
As the manager, I met with locum providers individually or in a group to give support and alter their inborn processes to help them be more comfortable and less likely to make errors. I tried to imbue the essence of Cialdini's book on influence and create reciprocity throughout the culture.
Open, face-to-face discussion is very important. Many locums are simply not comfortable being in a new place with unclear processes and personality differences, and are nervous to be away from home.
Locums should also embrace the team on which they find themselves; they should talk to nurses, ultrasound techs, and anyone else involved in the patient case. I've found that many department managers are not doctors and do not grasp the intricacies of the challenges the locum faces, and this is part of why each locum needs doctor-to-doctor time for constructive criticism.
Conduct Exit Interviews
The most recent assignments my colleagues and I left (I spoke with four fellow clinicians for this piece) did not offer an exit interview to gain perspective on the practice, communication, process, or quality related to the assignment. This should not be happening. The physician manager, at the very least, should be present for the exit interview, but the whole team could be involved. The interview must not be punitive and should conducted with open discussion.
While interviewers may not agree with what the locum says, conducting an exit interview at least offers them feedback from the onsite caregiver's perspective. This should provide some insight as to how the overall service can improve.
Tips for Locum Tenens Providers on Assignment
First, remember that you are in someone else's home. Don't try to put out fires, and do your best to assimilate as well as possible. Know, too, that the most exasperating item will be the HCIT system unless you have used it before. Find a physician or other clinician you get along well with and feel you can trust — the person you're shadowing, perhaps — and turn to them for professional and personal support during your assignment.
Although you should not try to change the carpet in someone else's home, if you find there are defects or waste that could potentially result in substandard care for patients, you do have an obligation to professionally discuss the issue with your manager.
Finally, contact your recruiter if you are unhappy or have any issues that you cannot resolve in discussions with your physician manager. Your recruiter is available to help you while you're on assignment, no matter the reason.
Sound good? Then it's time to learn more about how to improve patient satisfaction at your facility.