Happy National Locum Tenens Week! As a part of our festivities, we're sharing stories from healthcare facilities regarding the value they've found in staffing locum tenens providers.
Hiring healthcare providers comes with its own unique set of difficulties. Identifying good candidates, as well as licensing, credentialing, and other tedious preparations, all must occur before a provider is brought aboard.
In a recent survey, one of our clients cited "finding good candidates and vetting their credentials" as the most difficult aspect of staffing quality physicians and advanced-practice clinicians without the help of a locum tenens agency.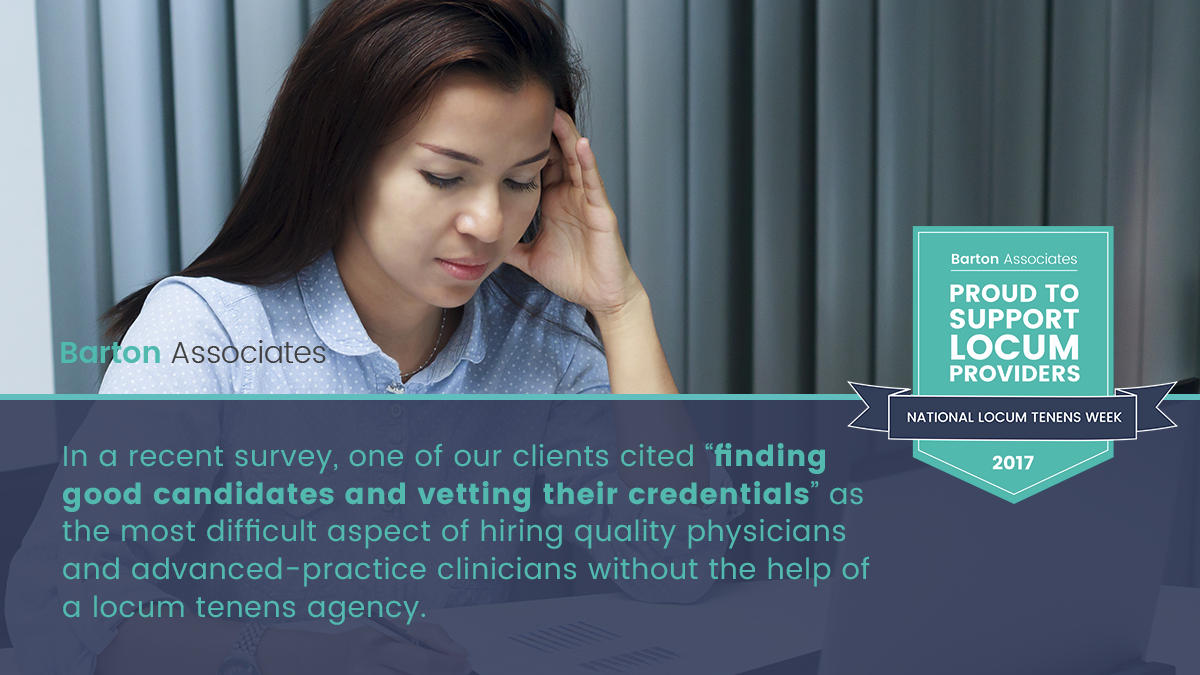 Another client advises facilities to "try before you buy." If you need more expert medical professionals to manage your patient load but lack the time to handle all the details, staffing locum tenens physicians and advanced-practice clinicians through Barton Associates should be your next step.
When working with Barton Associates, clients note that all the preliminary footwork is done for them. At Barton Associates, our dedicated account managers are by your side every step of the way, helping to alleviate challenges and ensuring only the most qualified candidates are matched with your hospital, practice, company, or other healthcare facility.
All you need to worry about is welcoming the provider to your team so they can provide the best patient care possible!
Want to learn more about locum tenens staffing with Barton? Here are a few resources we think will interest you:
Ready to get started? Let us know.