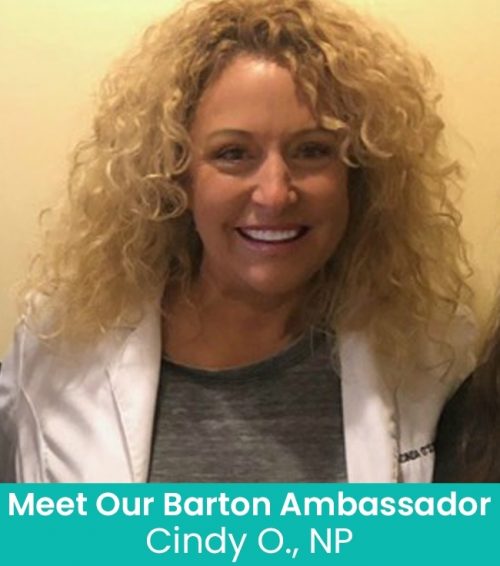 Cindy O. is a board certified nurse practitioner, Barton Associates locum and our very first Barton Ambassador! With the help of her recruiter Adam C., Cindy has completed locum assignments throughout the east coast. To kickstart 2019, Cindy is taking on another assignment: this time heading north from her home state of Florida to a position in New York, where she will be sharing her journey with us.
Thanks to Cindy and Adam, the Barton Team was able to catch up with Cindy, learn about how she first started with locum tenens, her extensive experience with Barton, the impact of locum tenens on her career and more.
Why She Started Locum Tenens
To learn more about Cindy, the Barton Team asked what initially prompted her to try locum tenens years ago. Cindy explained that, being from a small town in Florida, she recognized the value of expanding her knowledge— an opportunity that is magnified for locum tenens providers.
"I basically reached a point where I knew I needed different experiences and exposures without committing to one field of medicine. It's kind of like cutting hair- if you cut hair in one salon your whole life, you don't really know other hairstyles!"
That's when Cindy decided to try locum tenens. Soon enough, she was headed on her first assignment, providing individual care to patients in their homes.
"The first one I did was in upstate New York, in the winter. I'd never been in the snow in my life. My biggest fear was: is it going to be everything they say? So when everything was exactly as Adam says, I mean, professional, just amazing. [My experience was] better than he said, of course I tell all my friends. It wound up being a great experience, it was wonderful," Cindy explained.
Why She Works With Barton Today
Cindy's first assignment in New York was short, but wouldn't be the last time she would travel for locum tenens. Throughout the years, many recruiters have reached out to Cindy, but she says that working with Barton is a deliberate choice.
"I had many recruiters reach out to me… The difference between the recruiters that reach out from other agencies and [Barton] recruiters is how personable they are. They really dug deep to find out about who I was as a person, not just as a provider, so by doing that they were better able to connect me with things they thought I might be interested in."
In addition to the individual interest expressed by Barton recruiters, Cindy had regular contact with Adam, who provided a sense of security and trust.
"He called me weekly. 'How's everything going, is everything okay?' His customer service is through the roof," Cindy commented.
Her strong relationship with Adam was the standout memory when Cindy's flight to an assignment in Massachusetts was redirected to Rhode Island. Cindy immediately called Adam, who picked up his phone in the middle of the night.
"The flight was delayed for hours. They ended up having to fly me to a different airport. I called Adam and he immediately gave me a [travel support] number to call, but at the same time he said 'I'm gonna call too'. And this was at midnight, like the middle of the night, and I mean he answered his phone! When I called, they took care of it. There's no perfect situation. There's always going to be something you'll have arise. But when you have that confidence to know if anything arises, either my luggage doesn't arrive or something, it's gonna be okay."
What She Has Taken From Her Assignments
When asked about particularly memorable experiences that Cindy had from her locum tenens assignments, Cindy had more than one touching story to share:
"On the assignment I had in New York, [the patients] wrote me the kindest, sweetest letters. I didn't know I made that much of an impact until I got these beautiful letters. And I realized that, if I lived up there and I went in their home, I wouldn't be as tuned in. I saw them from a different perspective, and they saw me from a different perspective."
"I feel like I really made a difference in their lives, and they made a difference in mine. They made a huge impact in mine. That was all worth it [even] if I didn't get paid a dime for it."
"When I went to Boston, I had a very similar situation. Adam emailed me how happy [the clients] were with me. I was in oncology and I had never worked oncology before. But he sent me this really sweet, encouraging email about how much they loved me and I thought, 'Oh my God, I must be doing okay then!' And I went back to work the next day and I just felt so happy I could explode! So from that point forward all my confidence came back."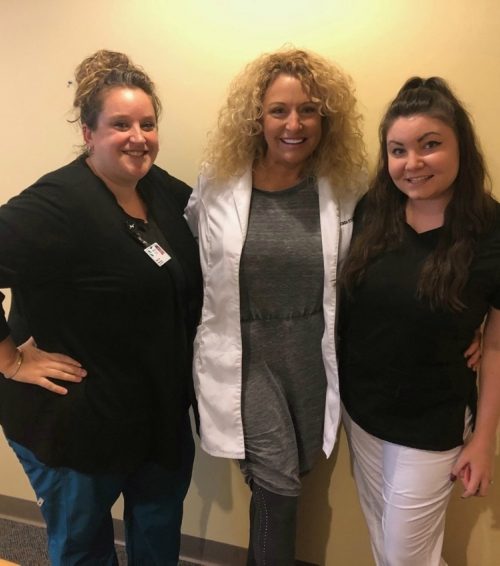 Locum Tenens Has Opened Professional and Personal Opportunities
"When I came back from Boston, my job offers went through the roof locally. I was coming back with the whole world of knowledge. I got more education in four weeks in Boston than I did in probably a year in the classroom."
"I made a lot of friends up there. I talk to them and one of them is coming to Florida in March! You meet people."
Most of all, locum tenens provides Cindy the opportunity to experience new places and include her family in the adventure. Toward the end of our conversation, Cindy talked about her upcoming plans to fly her family up to visit her while on assignment in New York.
What's Next for Cindy?
During her upcoming assignment, Cindy is looking forward to frequent family visits and experiencing the culture of New York City, as well as sharing her experiences as a Barton Ambassador.
"I'm in New York in a penthouse overlooking the Brooklyn Bridge, and everyone wants to come see me!" Cindy said.
Cindy will be keeping us updated throughout her New York assignment and adventures, so check out Barton Associates on Facebook and Instagram to follow along!
Want to learn more about locum tenens with Barton Associates? Fill out the form and one of our representatives will reach out to you!