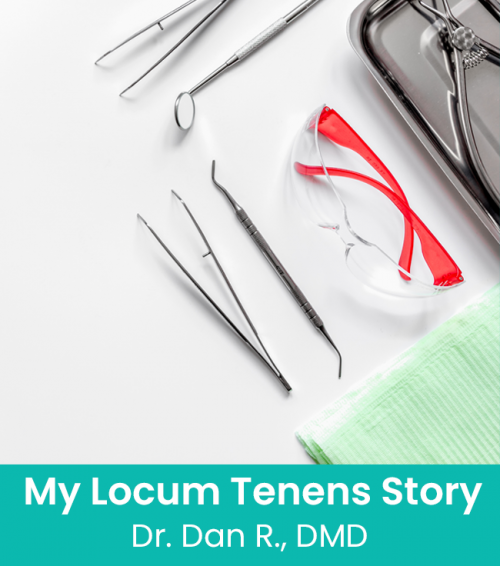 Dr. Dan R. was working on a grant in a free clinic in Southern Virginia for two weeks per month, when he came into contact with Barton Associates in September. Since then, he has taken locum tenens assignments all over Pennsylvania and Virginia.
How He Started Locum Tenens
When Dr. Dan came into contact with Josh in September, his grant had come to a close in August of 2018.
"I was tapering my practice down at the time I connected with Josh, so it worked in well," he says.
Dr. Dan says that he likes to work, having grown up in the generation of people who do: "My generation, we grew up working. I don't like to sit around. I'd rather be helpful."
So with the expectation of no further dental work from his contract, Dr. Dan decided to add on locum work to his schedule: "[Adding locum work] was just to keep me busy in the beginning… by now, Josh has gotten me quite a few assignments," Dr. Dan said during a call with our team in early April.
Working with Josh Has Been Easy
Working with his Barton recruiter Josh, Dr. Dan has been quite satisfied: he even compares Josh to a member of his family.
"I don't know if he's adopted me or I've adopted him. Josh checks on me all the time to make sure I'm happy. With other [agencies] it's, you know, if you have any problems give us a call. With Josh it's a little different. He's always been interested in my best interest."
For Dr. Dan's situation, this also means working hard to be sure that he always has a next assignment set up.
"Right now I'm working, and Josh has me scheduled for the next half of July," Dr. Dan said.
Locum Tenens Gives Him a Steady Flow of Work That He Likes
While some providers worry that, by pursuing locum tenens, they will not have enough work, that has not been an issue for Dr. Dan.
"With Barton, there's always something to do," he says.
Dr. Dan has a wide range of dentistry experience, including in oral surgery from his time in the military. In opportunities where his broad skillset can be utilized, Dr. Dan flourishes: "I've pretty much been able to do what I like to do. I'm very skilled by experience, not necessarily by training. I went to one assignment… it was funny, it was in New Orleans. They said there's your chair. You're the dentist, endodontist, and periodontist. I said, what?"
Dr. Dan went on to explain that the facility didn't have those other positions, giving him a chance to put his skills to use. Even on other assignments, he finds that he has great flexibility in the work that he does.
"There's always a time when someone is not available, and I can just go ahead and do it. I can do just about anything I want to do."
His Advice for Those Considering Locums
When asked his advice for dentists or other healthcare providers who are considering locum tenens, Dr. Dan has a simple answer:
"Try it, you'll like it."
We asked him to elaborate: "You meet a lot of nice people. Basically, there was only one office that, when I was done, I realized I won't go back there. You don't know whether you'll like something, unless you give it a shot. And if you get lucky like me, you'll get a nice recruiter."
"When you're in private practice, you have to go in, you have to worry about the patients, you have to worry about the staff, you have to worry about the bills, you have to worry about the collections, you have to worry about all of these things. Now, I just go in and do my job. At the end of the day, I walk out and none of the things are my problem."
In addition to alleviating the stress of private practice ownership, Dr. Dan also talked about modern dentistry and how locum tenens is a good option for those coming out of dental school.
"The environment has changed. It's very difficult to start a private practice now. I think all of the commercial practices coming in. They have offered the dentists a significant income, you can pay off your debt."
This growing trend towards corporate dentistry has been gaining speed in recent years, offering ready-made patient bases to new dentists just entering the field.
As for Dr. Dan, he plans to enjoy the locum lifestyle for a few more years: "I plan on doing locums for another 3-5 years, and then I'll sit down in my rocking chair and relax."
Sounds pretty good to us.
Want to learn more about locum tenens with Barton Associates? Fill out the form and one of our representatives will reach out to you!