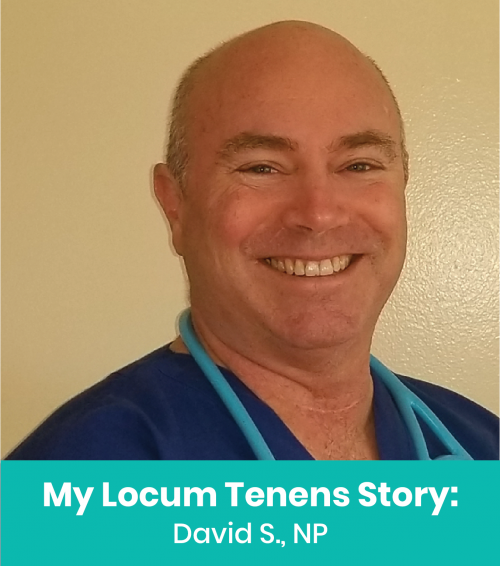 Happy National NP Week 2018! Here at Barton Associates, we'd like to thank the American Association of Nurse Practitioners (AANP) for sponsoring this exciting week of appreciation. We'd also like to acknowledge the talented NPs who provide great care at a variety of practice settings and locations across the country. Thank you for all that you do!
With the help of his Barton recruiter, NP David S. has completed locum tenens assignments across Washington state. In preparation for NP Week 2018, the Barton team wanted to highlight his story. Eager to learn more about David and his career, we chatted about what he looks for in a locum agency, his experience working with his Barton recruiter Adam, how he compares locum work to permanent jobs, and what he loves about working with Barton. Here's what he had to say:
A Great Locum Agency Is Supportive and Consistent
For David, a locum agency should be a teammate you can count on — not just as a job-search partner, but also as a trusted ally and continued resource.
When we asked David about the top qualities he looks for in a locum tenens company, he was clear about four things: "First off, consistency and communication. Second is integrity. Thirdly is a genuineness in the recruiter. And fourthly would be looking out for me." How does he see these qualities put into place at Barton? "I would say that it would be the level of support," he said. "[A] very high level of support and professionalism and the way the organization works."
My Recruiter and I Are a Team
After working with a few Barton recruiters over the course of his relationship with the company, David has worked with his current recruiter, Adam, the longest — and it's been both a successful and effortless connection. "[Adam] comes across as a genuine person," David said. "And very respectful and very personable. It's just like sitting down and just chatting at a coffee shop."
Because David and Adam have worked so well together, they've been able to realize a mutually beneficial partnership as a locum and a locum recruiter. "This is a perfect marriage of desires," David explained. "You get me a good deal, and we're going to do it together."
Going Locum Made Me Feel Appreciated
For David, the transition to locum work was a smooth one. "I come from a military background where I've actually moved around every couple years, and so this is kind of a perfect setting for me," he said. After going locum, David found that the monotony of traditional permanent work was replaced with excitement and flexibility. "I would say the biggest thing [about going locum] was picking and choosing when and where I want to work, instead of just showing up and doing the same thing over and over," David recounted. "[Going locum was like] just breathing life back into optimism, the life outside of just daily drudgery."
Beyond the flexibility of the work, David has found that providing care in often understaffed settings comes with a sense of appreciation he wasn't used to in previous permanent roles. "Your focus as a full-time provider is so divided between that burden [of your responsibilities] and the burden of taking care of your patients, that I would say it influences the way your behavior is, as far as your attitude toward going to work, and your enthusiasm, and your overall experience," David explained. "And I really love the locums opportunity because I go in, and I'm a welcome resource. […] They always are very appreciative, I get feedback — more feedback than I ever had in any permanent job."
Working With Barton Is Working With Someone Who Cares
In his time working with Barton, David has discovered that his strong relationship with the company extends beyond his recruiter. "[With Barton] it's not like a stuffed shirt kind of interview. […] When I've talked to Adam's boss and boss' boss in the past, they are just as easy, and available, as everything. And you don't get that in some of these other companies." he said. "Somebody actually cares," he continued. "That's pretty cool. [Barton is] not just a source of my paycheck."
Interested in sharing your locum tenens story for a chance to be featured in Barton content? Let your recruiter know, and we'll make it happen!