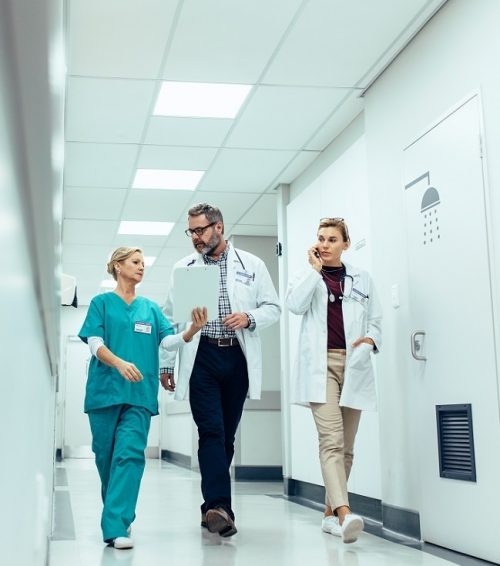 Dr. Craig S. is a locum tenens physician who grew up in Michigan. He hasn't traveled far for locum tenens, having done assignments in Wisconsin and Minnesota. After meeting his recruiter through a friend, Dr. Craig had worked two assignments with Barton Associates at the time of this interview.
Dr. Craig was kind enough to share his story with us, discussing how locum tenens is different from his past permanent positions, the benefits for older physicians, staying connected with loved ones, making the most of his time on assignment, and his relationship with his recruiter.
Locum Tenens Is Easier Than Permanent Positions
For Dr. Craig, locum tenens provided a much smoother experience in emergency medicine when compared to his permanent roles. "They were relatively busy emergency departments, seeing 40,000 to 50,000 patients a year," he said.
"After doing it a while, I just couldn't manage the volume anymore. It was chaotic and I was burning out."
However, Dr. Craig noted, locum tenens assignments have allowed him to work in lower-volume emergency departments that are easier for him to manage. In general, he said, doing locum tenens offered a much more convenient job-search process: "It's a lot easier than trying to go out and find [a job] on your own. At this point, I don't want a full-time job. [Locum tenens] totally suits what I'm looking for."
Older Providers Should Consider Going Locum
Later in our conversation, Dr. Craig elaborated on avoiding professional burnout as a locum, offering advice to providers who have had a long career in emergency medicine like he has.
"I think it would be wise for emergency physicians, especially when they reach at least 50 years of age, to consider doing locums," he said. "I think that by working fewer days in lower-volume emergency departments, they will enjoy working longer than if they were to stay in busy metropolitan emergency departments."
I've Brought Family With Me On Assignment
When we asked Dr. Craig about his experiences staying connected with family while on assignment, he told us that while he's never needed to travel far or stay long, he has made his family part of his locum tenens career. On one of his brief assignments, he brought his wife along to make the most of his day off.
"Just last month she went with me and we took our golf clubs," he said.
I Consider My Recruiter a Close Friend
Like many of the providers we've spoken with, Dr. Craig highlighted his relationship with his recruiter as one of the best parts of his locum tenens experience. "My experience with [my recruiter] has been awesome," he said. "He's gone out of his way to work with me, and I feel like we're friends at this point." A strong provider-recruiter relationship goes a long way in turning a good locum tenens experience into a great one.
Want to learn more about locum tenens with Barton Associates? Fill out the form and one of our representatives will reach out to you!