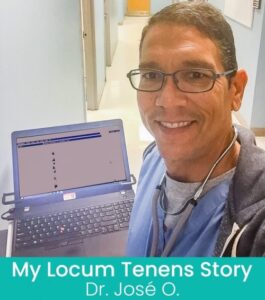 Here at Barton, we love hearing about your experiences doing locum tenens. This month, we were excited to talk to locum tenens physician, José O. His locum journey began just a few years ago, when he was moving from Florida to New York. Rather than take a permanent job, he decided to give locum tenens a try. Today, he says that he is extremely grateful to work with Barton Associates and his recruiters—but don't take it all from us! Here's what he had to say:
He Wasn't Always a Locum Physician
Before doing locum tenens, José worked as a permanent provider for many years. Like some other providers we've spoken with, he said that he was a bit hesitant to get into locums before he took the plunge.
"In the past, [locum assignments were something] I was almost afraid to try, because you never know what's gonna happen, it's not permanent." he said.
What changed? José says that a big part was feeling comfortable with what he was getting into.
"When I was talking to [my recruiters] Kiara and Kassidy, they were very flexible. She was flexible enough to say, if you don't like it, you don't have to stay. If it's not a fit, let us know, I have ways to get you out of a place that is uncomfortable for you."
It was this flexibility that made José feel comfortable starting locum tenens, and it's because of his initial leap that many more opportunities opened up for him after that. These opportunities were a particularly good fit for him, like one position that needed a doctor who could speak Spanish, which happens to be José's native language.
"[That position] made me feel really good," José said. "Some of [the patients] did not know any English at all. It was a really good opportunity. That was a major factor finding that job, because they needed someone who spoke Spanish. People appreciate what you do for them. The offices, the staff, they are very appreciative. The patients are very appreciative. There is a need for physicians to go to those places and work with patients, and they appreciate what we do for them."
Telemedicine Has Been a Great Way to Supplement His Work
Once back in New York, José found that his regular schedule of outpatient work wasn't filling his schedule. He then spoke with Kassidy again, who introduced him to a new opportunity Barton was offering: telemedicine.
"When I started practicing, I was really busy, so I'm used to being really, really busy," José said. "Bottom line is I'm able to supplement my practice with telemedicine. All of the telemedicine I'm doing is through Barton Associates, it's something that is fairly easy to do, I still have patients, I'm getting the benefits of extra work and getting extra income."
José is not alone in his love for telemedicine. Barton offers the opportunity of practicing telemedicine to physicians and nurse practitioners nationwide.
He Feels Grateful to the Barton Team and Great Recruiters
One thing that especially stood out for José was the relationship that he has with his recruiters, Kassidy and Kiara, and Barton as a whole.
"I feel extremely privileged to work with Kiara and Kassidy," José said. "We communicate frequently, [we have] a very professional relationship. If I have a question, I can reach out to [them] anytime. If I need something, I can just call. Credentialing, documents. [They] remind me when I have to fill out all my hours.I have decided to stay with Barton Associates because it has been very professional and a good experience, so I don't want to change."
In the future, he looks forward to working locum tenens through Barton, but is also happy to take things as they come.
"I just want to keep my options open — it's good to have that flexibility," he says. We agree!
Want to learn more about locum tenens with Barton Associates? Fill out the form and one of our representatives will reach out to you!