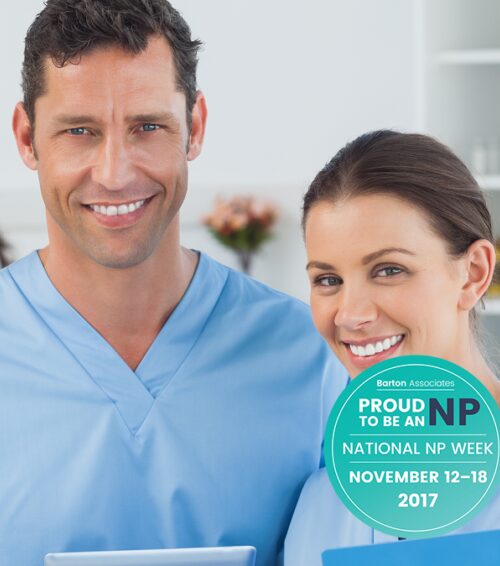 It's National NP Week! Thank you to nurse practitioners across the profession for your hard work and dedication to healthcare. We here at Barton Associates are celebrating with you by publishing NP-focused content all week long!
John A. is a locum tenens nurse practitioner (NP) from Ohio. After working several permanent roles that weren't a good fit for him, John says his locum tenens experience simply "fell into place." Since then, he has completed a number of assignments with Barton Associates over the course of approximately five years. Ranging in length from a weekend to almost two years, John's assignments have taken him to Nevada, Arkansas, and California.
We reached out to John to learn more about his locum tenens experience. Here's what he had to say about his relationship with his recruiter, the temporary nature of locums, how the ability to travel complements his military background, and how going locum has affected his passion for healthcare.
My Recruiter Makes My Locums Experience
Keeping promises is a key quality that John looks for in a person — and a quality that's built the strong foundation of his provider-recruiter relationship.
"I hope I never have to work with anybody else for as long as I'm working," he said. "If [my recruiter] says he's going to do something, he does it. We have a very good relationship, and he's a man of his word. What else can I say?"
In terms of his future as a locum, John didn't hesitate to factor his recruiter into the equation: "If he takes off and goes somewhere else, then I'm going to more than likely stop doing the locum thing."
Locums Can Be "Like an Insurance Policy"
A favorite benefit for locums is the role's flexibility: They have the option to choose when they want to work, where, and for how long.
"That's what I like about being a locum," John told us. "If I go to a new place, I know if it doesn't work out, in thirty days, I can be gone. And that's kind of a nice thing." He went on, "I like the idea that I guess it's almost like an insurance policy. If I don't like it, I can get the heck out of there. It's easier."
This ability to work temporary positions also allows locums to experience a variety of practice settings and build a diverse skill set.
I've Seen Places I Wouldn't Have Otherwise
When asked about his favorite part of doing locums assignments, John responded, "Going places I've never been before." His military background also prepared him for a lifestyle of temporary relocations. "We were used to moving every two or three years for a long time," John said. "Where I'm at right now, we would have never gone there on purpose. … It's fun traveling, looking around, that type of thing."
Other Barton locums have also spoken to traveling and seeing the country with their spouses, children, and pets.
Locums Reminded Me Why I Love Working in Healthcare
For John, going locum gave his healthcare career a needed morale boost. "Working as a locum reignited my healthcare passion," he said.
After working in a private practice, John wasn't sure if continuing in the field would be the best choice for him. "I literally was looking at driving trucks," he confessed. "[Locum tenens] reignited why I stayed in healthcare. I don't know how else to say it."
Do you relate to John's story? Start your locum tenens journey today!