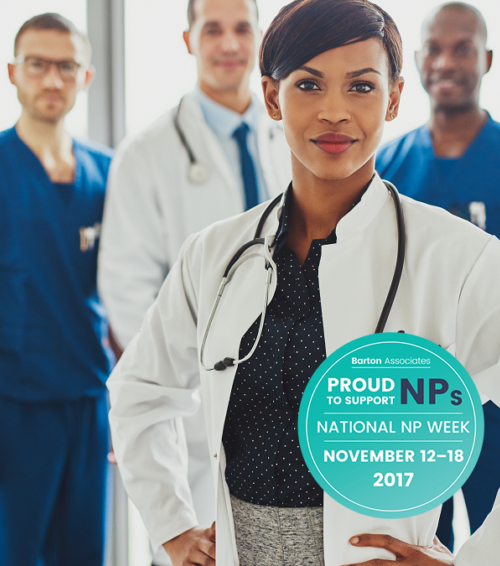 It's National NP Week! We hope you'll join us in thanking nurse practitioners across the profession for their hard work and dedication to healthcare. We here at Barton Associates are celebrating by publishing NP-focused content all week long!
As your hospital, practice, or company struggles to provide continuous care through a staffing shortage, your permanent staff are likely combating symptoms of professional burnout on the job. Can they continue ensuring the best care for their patients through feelings of exhaustion and loss of interest? The answer is more than likely "no." With overworked physicians and patient care at stake, it's time for your facility to figure out a solution.
Did you know that the supply of primary care physician assistants (PAs) and nurse practitioners (NPs) is growing faster than the supply of physicians? Furthermore, while only 14.5 percent of physicians entered a primary care residency in 2017, 89.2 percent of NPs are certified in primary care specialties. NP practice authority plays a critical role in helping millions of patients and limiting burnout for other healthcare professionals.
There has never been a greater opportunity to utilize NP care in your healthcare facility. Are you using this talented group of medical professionals to its full potential?
NPs Provide the Solution to Unbalanced Supply and Demand
As more than 10,000 Americans turn 65 every day, the need for care increases. Twenty percent of people aged 65 and older have at least five chronic diseases, see at least 14 physicians, and visit their doctor an average of 40 times per year. While the future is uncertain for healthcare legislation, more than 20 million previously uninsured Americans have gained coverage thanks to the Affordable Care Act (ACA) as of early 2016. As demand rises, physician supply is dwindling.
Thankfully, more and more NPs are preparing for practice. An estimated 7,349 new NPs graduated in 2014 and 2015, and 23,000 new NPs completed their academic programs in 2015 and 2016. As NPs enter the workforce, there has never been a better time to maximize their skills.
NPs Are Authorized to Provide High-Level Care
NP practice authority is growing, enabling them to provide care that is equal in quality to a physician's care. Today, NPs can independently diagnose and treat patients without any physician involvement in 23 states, sign disabled person placard forms in 44 states, sign death certificates in 26 states, order physical therapy in 47 states, prescribe schedule II drugs in 45 states, and are recognized as primary care providers in 42 states.
When it comes to patient care, NPs are authorized to perform surgery, conduct physical exams, do patient counseling, and order and interpret tests.
Facilities Reap the Rewards of NP Care
The U.S. is expected to be short 40,800 to 104,900 doctors by 2030, and each day your facility is without a provider, you're missing out on thousands of dollars in billable services. Chances are, you quite literally can't afford to wait for your next permanent provider — especially if you're located in a rural area.
With this in mind, hospitals, practices, and other healthcare facilities across the country are relying on locum tenens NPs to ensure continuous care for their patients, limited burnout for their permanent staff, and open revenue streams for their organization. In fact, 94 percent of healthcare facilities are already utilizing locum tenens staffing solutions to meet their needs.
How can you better implement NP practice authority to remedy the staffing shortage in your facility?
Thanks for celebrating National NP Week and honoring NPs right along with us! Don't miss our new NP-focused content publishing throughout NP Week on the blog.