In honor of #PAWeek2020, Barton Associates updated two of our resources for Physician Assistants who are pursuing locum tenens work. Read on to learn how to use our PA Scope of Practice Wheel and State Laws map.
All physician assistants must practice with a collaborating physician; however, state laws dictate the extent of that relationship. This interactive tool provides an overview of PA scope of practice laws by state with regard to the Six Key Elements of a Modern PA Practice Act from the American Academy of PAs (AAPA).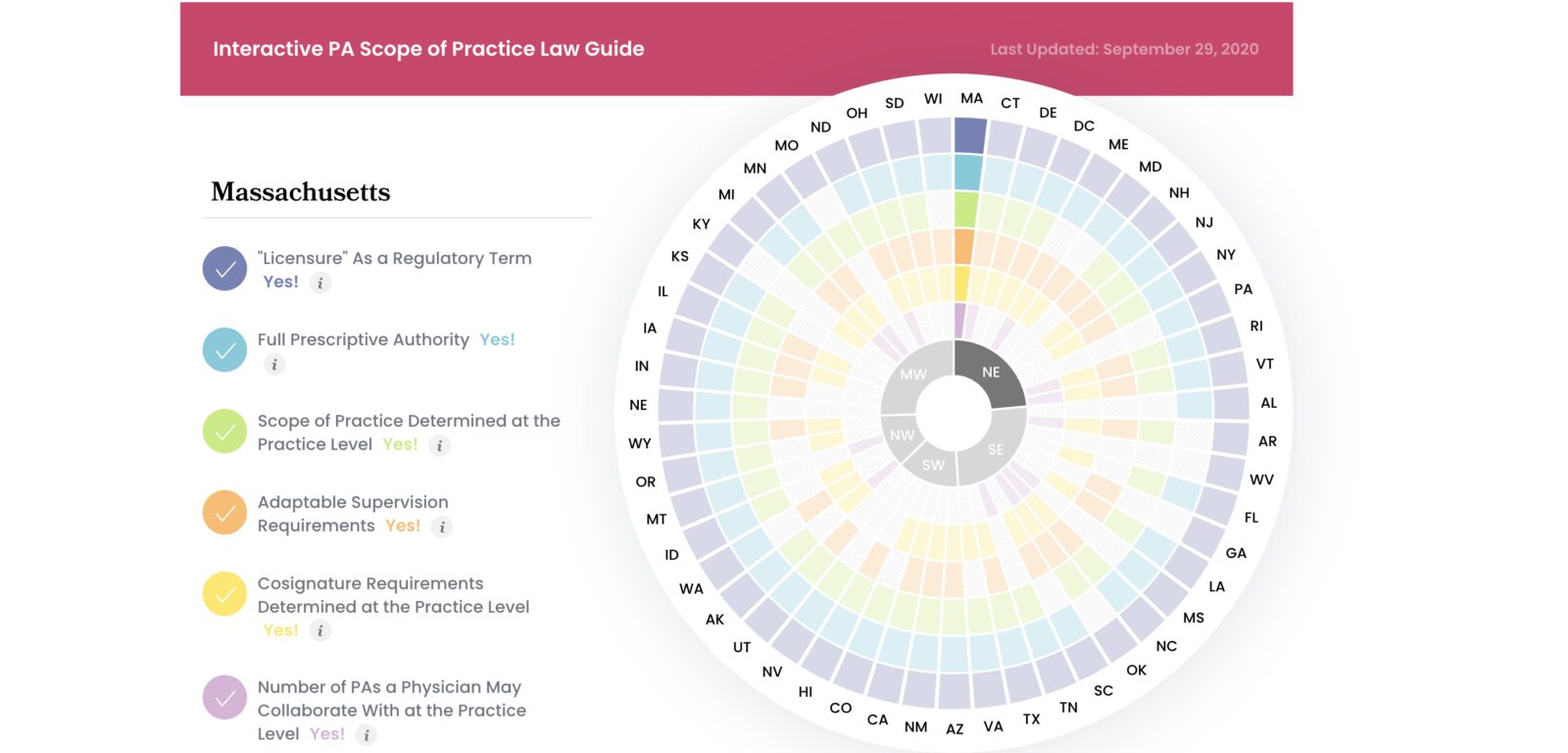 The AAPA has identified six key elements that should be part of every state PA practice act. They are:
"Licensure" as the regulatory term.
Full prescriptive authority.
Scope of practice determined at the practice level.
Adaptable supervision requirements.
Chart cosignature requirements determined at the practice.
Number of PAs a physician may supervise determined at the practice level.
The PA scope of practice wheel allows you to select individual states, seeing which of the six key elements apply to each state. Check out the tool, which was updated recently for PA Week!
Licensing requirements for physicians vary from state to state. Because of this, we've put together a handy interactive guide that offers a snapshot of each state's guidelines.

To use the guide, click any state to view details about its practice laws. You can also compare two or more states by selecting them on the map and clicking "Compare." The resulting table will display everything you need to know, including the estimated application process timeline, whether the state offers a temporary state license for locum assignments, the locum license time frame, whether a state board meeting is required to get an application approved or finalized, whether fingerprints are required for application, whether an FCVS is required for application, how much postgraduate training is required for application, and whether a controlled substance registration is required for application.
This map has also been updated for PA week. Check it out here!
Locum Tenens for PAs
Because laws surrounding PA scope of practice vary from state to state, PAs who want to practice to the full extent of their license may find that they need to travel in order to do so. Locum tenens work offers an excellent way to do this – as locum PAs earn more, travel more, and enjoy more career flexibility than PAs in permanent positions. Fill out the form to get started!
Want to learn more about locum tenens with Barton Associates? Fill out the form and one of our representatives will reach out to you!