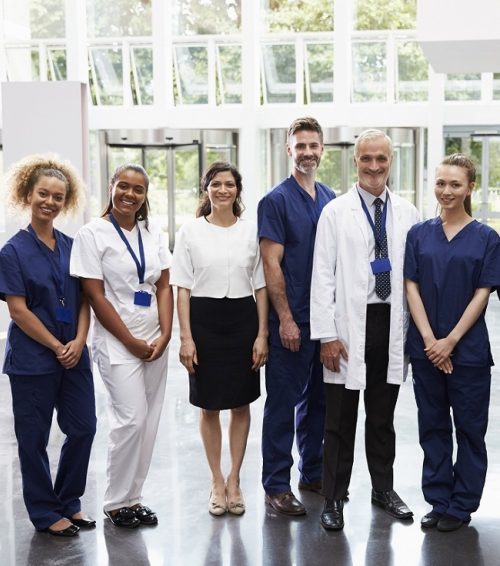 Healthcare organizations across the United States are struggling with physician shortages. According to the Association of American Medical Colleges (AAMC), the country will face a shortage of between 46,900 and 121,900 physicians by 2032. The dearth of physicians cuts across primary and specialty care, though the latter is especially at risk.
Primary care will face a shortage of between 21,1000 and 55,200 physicians.
Specialty care will face a shortage of between 24,800 and 65,800 physicians. This shortage breaks down as follows:
Between 1,900 and 12,100 medical specialists.
Between 14,300 and 23,400 surgical specialists.
Between 20,6000 and 39,100 other specialists, such as psychiatrists, radiologists, pathologists and neurologists.
What Is Causing the Physician Shortage?
There are a couple of factors that contribute to the physician shortage, including an aging population, doctors nearing retirement, and lack of residency slots for up-and-coming physicians to replace those gaps in coverage. The percentage of Americans over the age of 65 will increase by 48%, according to the U.S. Census Bureau. Additionally, one-third of currently active doctors in the U.S. will be older than 65 in the next decade, according to the AAMC. It can also take up to 10 years to train a doctor – from pre-med to residency – meaning that there might not be enough new doctors to fill the gaps left by retiring physicians.
How Are Healthcare Organizations Using Locum Tenens?
Healthcare organizations that are struggling to fill certain positions can benefit from using locum tenens providers. According to Becker's Healthcare Review, one benefit of locum tenens is that it allows hospital recruiters to bring in expert doctors temporarily while they look for the right candidate to fill a position permanently. This is particularly helpful for healthcare organizations in rural or economically disadvantaged areas that cannot afford to rush the process of finding the right fit, and those that want to take the time to interview, onboard, and find the right candidate for their needs long-term.
Another advantage of locum tenens is that it allows healthcare organizations to fill temporary gaps, such as if a doctor takes a vacation, sabbatical, or goes on maternity leave. This can help keep the organization running smoothly without any disruption to patient care, and protects your bottom line.
Why Should You Use a Locum Tenens Provider?
Some healthcare organizations – and patients – might be skeptical about using a locum tenens provider, but any fears should be laid to rest. Locum tenens doctors provide care that is comparable to that of non-locum tenens providers, according to a study published in the "Journal of the American Medical Association". The study found that, among hospitalized Medicare beneficiaries who were treated by a general internist, there were no significant differences in 30-day mortality rates among patients treated by a locum tenens provider compared with a non-locum tenens provider.
Patients treated by locum tenens providers also had significantly lower readmission rates than patients treated by non-locum tenens providers.
Many of the patients who were treated by locum tenens physicians were treated at small- and medium-sized hospitals in rural and suburban areas. These areas can stand to benefit the most from locum tenens providers, according to Becker's. If a rural nurse or physician retires, it can have devastating consequences for that community and the organization. It may be more difficult to hire a new provider than in an urban area, which can leave patients in the lurch when it comes to receiving timely care.
While medical schools are attempting to bridge the gap in care in rural areas, locum tenens is a viable alternative. Over 90% of hospitals in the country use locum tenens providers as a supplement to full-time staff. These providers can be helpful during busy seasons and in specialties that typically suffer shortages, such as obstetrics and gynecology. Locum tenens is also a good way for a healthcare organization to test new personnel before they make an investment in a full-time employee.
Want to learn more about locum tenens with Barton Associates? Fill out the form and one of our representatives will reach out to you!