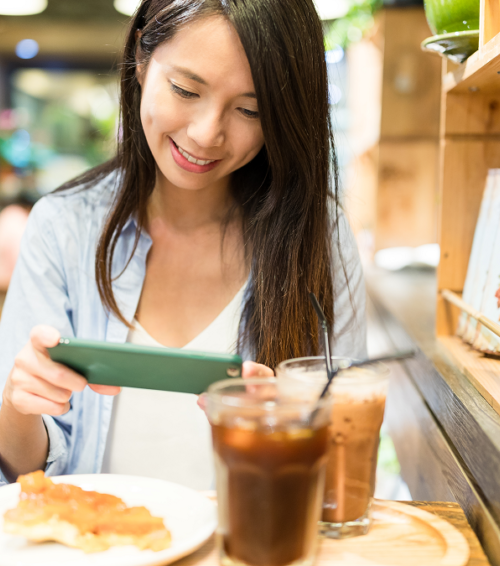 Smartphone users use different apps to communicate with friends, check trending news reports, and even post pictures of their food on social media.
While some would argue that snapping shots of your food is useless, Satchidananda Panda, an associate professor in the Salk Institute's Regulatory Biology Laboratory, and Shubhroz Gill, a graduate student, would say that it is an excellent way to research the effects of timing on food intake and health.
The app, myCircadianClock, requires users to snap a picture of everything they eat in a day. By doing so, Panda and Gill are able to collect, examine, and interpret food data to assist in research about when humans ate. Researchers instructed 156 people in a study to photograph everything they ate or drank before consuming. The pictures were then immediately sent to a central server to collect the data, but the photos were also automatically deleted from the users' smartphones in order to prevent having a record that volunteers could see causing them to change their eating habits.
Researchers discovered that the volunteers forgot to take pictures of their food only 10 percent of the time. Snapping shots of their food became second nature to the participants. The study revealed that the volunteers consumed less than 25 percent of their daily calories before noon, and 37.5 percent of their calories after 6 p.m. An estimated 12.2 percent of calories were consumed after 9 p.m.
Eight overweight participants volunteered to test whether the app could also help those who wanted to eat for fewer and more consistent hours each day. In the experiment, the participants changed their normal feeding hours, more than 14 hours every day, to a restricted time frame of 10 to 11 hours. On the app, the participants were given access to "feedogram," an option that shows daily dietary patterns. As a result, the participants lost an average of 3.5 percent of their excess body weight. Studies found that the participants reduced their calorie intake by about 20 percent.
Panda hopes to continue with his study of the benefits of time-restricted feeding in other parts of the world such as Europe, India and Japan.
"Lifestyle is a combination of what we do and when we do it," Panda said. "And when it comes to food, there has been a lot of research done to monitor what people eat, and there are also suggestions of what they should not eat. But when it comes to timing, we haven't figure out this aspect of lifestyle."
The myCircadianClock app is available for iPhone and Android users.
What are your favorite health apps? How do they help your patients? Share your thoughts in the comments below, or Tweet us
@bartonlocums
!