With the expansion of healthcare coverage under the Affordable Care Act (ACA) to nearly 32 million Americans, and a number of other factors including an increasingly aging population, the American Academy of Family Physicians estimates that the United States will face a shortage of 60,000 primary care physicians by 2020. Thus, the supply of primary care physicians cannot keep up with the increased demand placed on the healthcare system. Towards this end, many organizations, state officials, and public health officials have suggested expanding the roles of nurse practitioners (NPs) to support the physician workforce in meeting the primary care provider deficit, either as part of multidisciplinary teams or as independent providers. Of the licensed NPs currently working in the United States, 80 percent are prepared in primary care specialties.
"There is a growing gap and huge need that make anyone in the primary care space more desirable," says Mary Jo Goolsby, Director of Research & Education at the American Association of Nurse Practitioners (AANP). "Primary care is an area where NPs continue to grow as compared to other disciplines."
Although their education and experience makes them more than capable of practicing autonomously, state law regulates just how independently NPs can practice. Nineteen states and the District of Columbia have implemented plenary authority for NPs, which means that NPs can practice as an independent provider under their own license and are accountable for the care that they deliver. The remaining states require NPs to form some type of a collaborative professional relationship with a physician. Recently, Minnesota and Michigan have recognized the high quality of care that NPs provide, and have taken steps to expand NPs' scope of practice. Starting in 2015, NPs in Minnesota will be able to diagnose, write prescriptions, order tests, and refer patients. The Michigan Senate has also passed a bill acknowledging NPs as "expert clinicians with advanced education and extensive clinical preparation," and would allow NPs to diagnose and treat patients without direct physician supervision. However, Senate Bill 2 has been stalled in the House Health Policy Committee for over a year.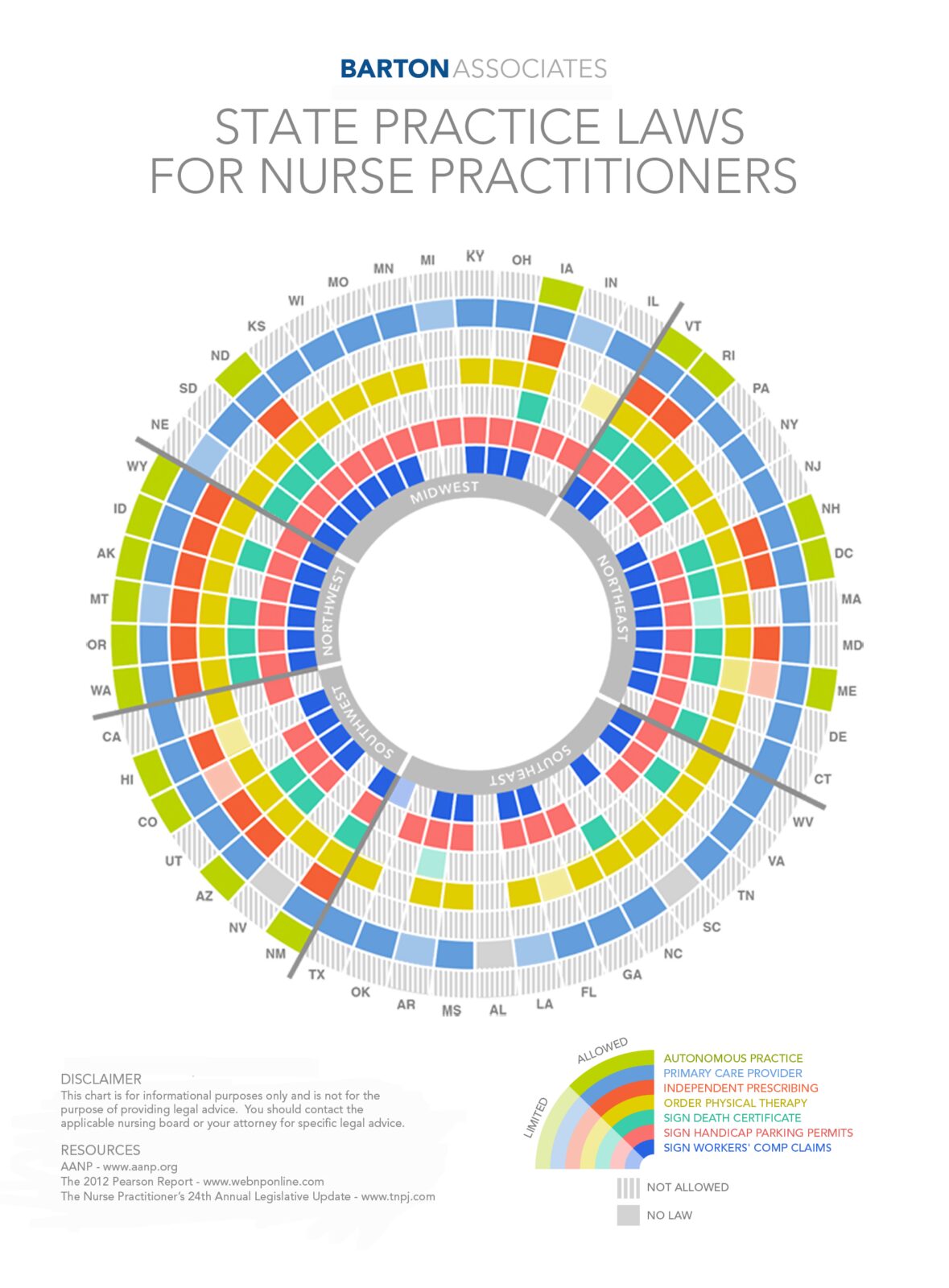 States that allow NPs and other advanced practice providers the ability to practice to the top of their education are better prepared to implement integrated healthcare systems and provide comprehensive care to their citizens. Furthermore, increased scope of practice regulations for advanced healthcare providers would improve patients' access to high quality and cost effective healthcare in the face of the oncoming physician shortage. Barton Associates understands that scope of practice regulations have an impact on the locum tenens NPs we place throughout the United States, and have created an interactive guide that offers a snapshot of each state's scope of practice laws. For more information on the NP scope of practice in your state, check out Barton Associates' NP Scope of Practice Wheel.