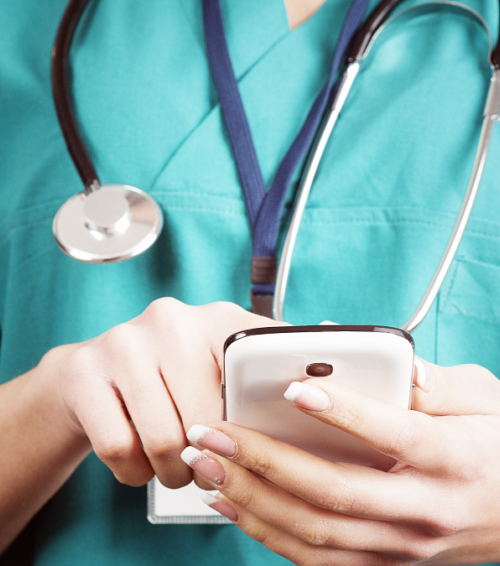 There is no shortage of medical applications available for iOS and Android devices; however, there is little insight available on how medical professionals actually use the technology. That is, until now.
Researchers in London surveyed 257 medical students and 131 junior doctors (equivalent to residents in the U.S.) about their smartphone usage habits. They found that 79 percent of medical students and 75 percent of junior doctors owned a smartphone, with the majority of students and doctors owning an iPhone.
Both populations said they used medical apps several times a day. Over the course of a 24-hour day, students used apps for between one and 30 minutes. Residents used apps for a slightly shorter time (one to 20 minutes), with very few residents reporting more than 30 minutes of app usage in a given day.
Several doctors noted that using a mobile device in the presence of patients could be misinterpreted as checking texts or emails, which may limit the amount of time spent using apps.
"The culture of looking lazy or uninterested by playing on your phone needs to be overcome. Once patients and consultants realise the phone use is work related I will feel more comfortable," wrote one respondent.
The majority of students and doctors owned fewer than five medical-related applications. The authors note that although doctors tend to use medical apps regularly, they are very selective about the apps they keep on their phone. Both populations favored educational apps over clinical apps, with students using them for help with their studies and residents using them for a quick reference.
As for future app development, both populations are interested in using apps that are linked directly with their organization. Students are particularly interested in apps that contain information relating to timetabling and lecture content, as well as revision and quiz type features.
Doctors are more interested in clinical information relating to medical applications. The doctor group reported regular use of disease diagnosis/management apps and drug reference apps, which are areas for which hospitals develop individual clinical guidelines. This represents an opportunity for hospitals to develop smartphone apps specific to their guidelines and prevent doctors from using smartphone apps based on clinical resources that are not endorsed by the organization.
However, the study's authors note that some organizations may be hesitant to invest time and money into developing applications until they can see clear clinical evidence that it will improve patient care and safety. Maybe that will be the next study.
What are your thoughts on using healthcare apps? Share with us on Twitter
@bartonlocums
!