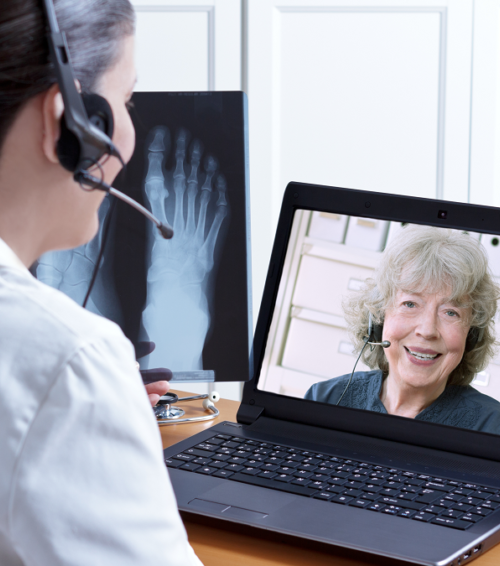 Healthcare as we know it will never quite be the same again. In early February, the Centers for Medicare & Medicaid Services (CMS) issued a final rule clarifying requirements for Medicaid beneficiaries to qualify for home health services. It goes into effect on July 1, 2016, and allows face-to-face visits to be conducted via telemedicine.
Telemedicine's widespread acceptance is now several years old. In early 2013, Cisco announced at the Healthcare Information and Management Systems Society Conference the results of its global healthcare survey, showing that 74 percent of consumers were comfortable with communicating with doctors virtually rather than in person. These findings challenged the long-held assumption that face-to-face interaction was by far the preferred method.
What the New Rule Means for Healthcare
According to MobiHealthNews, what specifically comprises telemedicine isn't defined in the bill's language, and CMS will defer to each state's definition of the service. However, the agency did make clear that phone calls and emails weren't going to cut it, no doubt to the disappointment of overworked physicians.
"It is not our intention to allow telephone calls or emails to replace the face-to-face encounter," the agency said in response to public comments. "In other words, telehealth and telemedicine are service delivery models and do not replace the requirement that a physician or NPP must have a face-to-face encounter with a beneficiary. Rather, the face-to-face encounter can be met through a telehealth delivery model that is recognized by the state as a physician or NPP encounter under its approved state plan."
This new CMS provision doesn't necessarily make telemedicine reimbursable by Medicaid, though there may be changes in some states where provisions for transportation reimbursement to facilities requiring face-to-face visits are already in place. States may agree to extend these reimbursements to virtual services under the new rule's umbrella.
CMS wrote that more thorough telehealth guidance would be forthcoming, given the potential security and privacy concerns that come with just about every new form of technology. For now, though, care facilities will no doubt take advantage of the great opportunity just extended to them.
A nationwide physician shortage, combined with an aging population and a growing number of insured patients with access to healthcare networks, makes telemedicine a logical system for improving physician efficiency, serving a greater number of patients, and lowering the cost of care. It's simply a common-sense solution befitting the modern age.
Locum Tenens Has a Part to Play
Though new telehealth advantages seem to promise a bright future, the reality is that hospitals and care facilities will struggle to maximize their value without a full complement of physicians on hand. State-of-the-art technology is great, but only if you have someone around to use it.
If your team is short-staffed or burned out, locum tenens is the answer. With an extensive virtual network of doctors, NPs, and PAs ready to provide full- or part-time locum tenens staffing support, facilities can employ telemedicine technology without sacrificing care quality. Locums can also address staffing issues, maximize capacity, and increase revenue while they're at it.
In short, locums are crucial to taking full advantage of CMS's final rule. These providers offer facilities a way to maintain flexibility and a high level of service while also growing their patient base. What's not to love about that?
Photo credit: Alisa Anton/Unsplash
Want to learn more about telemedicine and its potential role in your facility? Check out
Barton Telehealth
today!