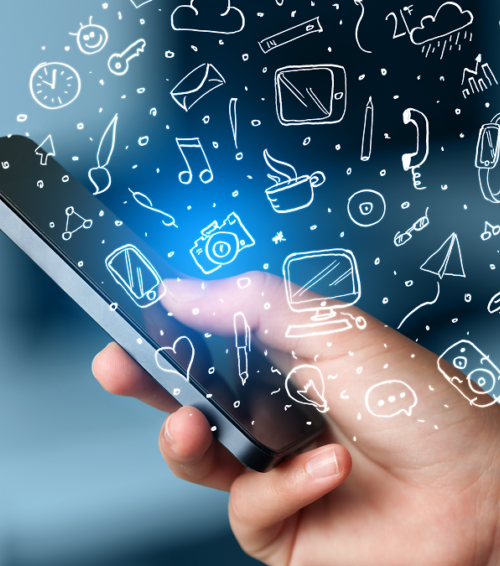 Your smartphone or tablet is the ultimate travel tool, especially when you take into consideration the vtariety of downloadable apps out there. For traveling locum tenens professionals, these mobile devices do more than help you stay in contact with loved ones while out on assignment. Whether you need to find a good lunch spot or cross-reference a collection of symptoms, the touchscreen in your pocket or travel bag can make life in an unknown area considerably easier.
With so many options available, finding the best travel apps to complement your unique professional situation can be tricky. If you're struggling to find the perfect combination, check out some of our favorites:
1. Trip by Skyscanner (iOS; Android)
Trip.com's mobile app is arguably one of the best travel apps out there. It uses personal and environmental factors such as location, interests, and even weather to help steer you in the right direction. User-rated categories for everything — food, nightlife, entertainment, you name it — make it easy to find the best of whatever you're looking for, wherever you are.
Medical professionals tend to be organized people, making Packpoint a perfect app for any traveling locum. Besides sparing you from the hassle of forgetting your phone charger or favorite sweater, the well-loved app lets frequent travelers make prebuilt packing lists by category, among other highly detail-oriented features. It can even help you optimize your packing to avoid extra airline fees and to match the weather in your destination.
Google Trips is the persistent travel companion you've always needed but never had. For instance, if your locum tenens work frequently takes you to Boston and a friend recommends a restaurant there, plug it into the app and it'll remind you the next time you visit. Google Trips works as a centralized travel-info repository, aggregating context-sensitive info on car rentals, restaurant and hotel reservations, travel miles and points, tineraries, and more. The best thing about Google Trips? It works whether you're connected to the internet, using data, or completely offline.
Side note: If you're an Android user, the app works especially well because it integrates a number of other highly useful Google services.
Depending on your personality, frequent restaurant trips are either a hidden perk or huge downside to travel-based work. Either way, you probably want to make sure you're getting the best possible grub at your current locale. Zomato uses location data, user preferences, and reviews to steer you to the best possible eateries. The app even offers curated lists for specific food types. Want sushi? Italian? A big, unhealthy burger? You'll find it with Zomato.
Most of the best travel apps on this list have more to do with preparing for a trip than the actual act of traveling. That's where AwardWallet comes in. An app built exclusively for tracking rewards, AwardWallet will keep track of any frequent flyer miles or credit card points that you rack up during your travels. As any frequent traveler knows, those awards and bonuses really add up, so why let them go to waste when you can track them all in just a few seconds?
Free.
Premium available for $159/year.
With 50 percent of all physicians happily using Epocrates, there's a good chance you've heard of the app. As one of the most popular and most useful medical apps, Epocrates offers features such as drug interaction and medication identifiers, provider directories, care-focused calculators, and many more. Whether you choose to use the free version or pay $159 a year for the premium version, Epocrates is an essential download for any traveling locum — unless you want to carry a whole medical library with you any time you leave on an assignment.
Free.
Premium versions available.
HIPAA-compliant project management. With that phrase, Redbooth will become your new favorite project management tool. Keeping track of all the colleagues you meet when working on assignment can quickly become cumbersome, but with Redbooth, leaders and participants can quickly send updates, view task lists, and accomplish other project management tasks while also staying HIPAA-compliant. Like all apps in the project management category, it's not for everyone — but those who can use it will likely find it indispensable.
8. Black's Medical Dictionary (iOS; Android)
If you've come to rely on this beloved publication, you'll be happy to hear that it is now available in a mobile version. Complete with mobile-friendly features such as quick search, Black's Medical Dictionary is a no-brainer purchase, not to mention a serious travel simplifier. It also includes offline browsing, giving it even more utility.
9. Johns Hopkins Guides (iOS; Android)
Like Black's Medical Dictionary, the Johns Hopkins Guides is another hugely popular set of medical reference tool that's gone mobile. Why the plural? With access to Johns Hopkins' antibiotics, psychiatry, diabetes, and HIV guides, as well as many mobile-friendly features, Johns Hopkins Guides is a must-have app. And, again, a far better choice for a traveling locum than lugging a suitcase of tomes around.
Though VisualDX doesn't replace a bookshelf version, it's still an excellent, versatile, and portable reference for any traveling medical professional. The app's library of "decision support" services includes medication interactions, symptom searches, and images for visual comparison. Although VisualDX isn't free, users pay on a subscription basis and the number of highly satisfied medical professionals using it shows just how valuable it can be on a locum tenens assignment.
Did we miss any? What are the best travel apps you rely on during your locum tenens assignments? Share your favorites in the comments!