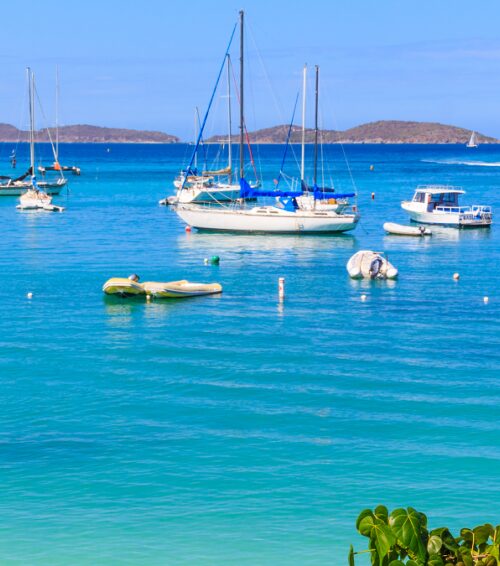 As a nationwide leader in locum tenens placements, Barton Associates takes thousands of listings from hospitals and other healthcare facilities across the United States. As a result, the professionals we work with get to do locum tenens work in some pretty cool places.
We know the opportunity to travel and experience new areas is a major reason healthcare professionals choose locum tenens. As we leave 2017 behind, we thought we'd highlight some of the most interesting positions we had to offer from California to the East Coast, and everywhere in between!
1. Emergency Medicine Physician — U.S. Virgin Islands
When this assignment came across our desks, we knew it would be on the shortlist for the most interesting destinations of 2017. For our emergency medicine providers who enjoy warm-weather work and sandy beaches, this was an ideal opportunity. This position required two weeks of coverage, giving available ER physicians the perfect break from the cold winter weather.
Spend a month in the U.S.V.I., and get paid for it? We couldn't think of much else we'd rather do.
2. Dentist — Alaska
They don't call Alaska "the last frontier" for nothing, and this position wasn't anything short of adventurous. The assignment covered multiple Alaskan villages, requiring the locum to fly in a bush plane and treat patients in an underserved area. The dentist saw patients of all ages for a wide variety of common and emergency procedures.
If your ideal locum assignment involves a sense of adventure and a love for the outdoors, look for locum tenens work in Alaska through the new year!
3. Family Practice NP — South Dakota
While some of our providers select assignments in warm climates or coastal areas, many locums choose to work in more rural, underserved areas. While some might not consider these destinations conventional, the unique culture and patient populations are a draw for healthcare professionals looking to get out of the city and provide care to patients in greater need.
That's why we're showcasing this opening in South Dakota! This position had our locum working on a Native American reservation for six months, seeing patients of all ages for a wide variety of primary care needs. Located within driving distance of Mount Rushmore National Memorial, the Black Hills, the Crazy Horse Memorial, and many other outdoor destinations, this position offered both cultural and personal enrichment in an area in need of primary care providers.
If you love hiking, mountain biking, rock climbing, or even horseback riding, consider a state like South Dakota for your next locum tenens adventure!
4. Family Practice PA — California
While not quite in the 90210, this position was located in coastal California, right along the Pacific Coast Highway. On the job, the locum saw patients for a wide variety of primary care needs, making this a perfect position for a PA looking to expand their clinical skill set — and experience a beautiful part of our country while they do it!
This location also made for fun days off, presenting the opportunity for a cruise down the P.C.H. to Huntington Beach. For the golfing locum, a trip to one of many nearby golf courses and country clubs is also a must. If you've been craving a laid-back, West Coast lifestyle, a position in California could be just what the doctor ordered.
5. Family Medicine Physician, NP, or PA — Hawaii
We'd be remiss if we didn't include Hawaii on our list of the most interesting locum tenens assignments of 2017. When we think of the Aloha State, we see beautiful sandy beaches, volcanos, and perpetual sunshine. What many don't realize, however, is that Hawaii's islands are facing a critical shortage of healthcare professionals that equals or surpasses the impending shortage facing the contiguous United States.
Because Hawaii lacks both general practitioners and specialists, we've seen greater demand for locum tenens services from facilities on the island. While this opening was for a family medicine provider, this position also required the locum to treat patients with chronic ailments who had lacked consistent access to specialty care. This month-long assignment was ideal for a locum looking for the perfect balance of work and play: helping improve the lives of underserved patients and living on the beach at the same time.
While we chose to highlight some of the more well-traveled locales here, we have positions across the United States that can meet almost any provider's needs. Whether you'd prefer to treat a specific population, see a certain area, or enjoy a new culture, one of our talented staffing specialists can help you explore the options that interest you most. It's time to make the most of locum tenens work in the new year!
Ready to hit the road? See where locum tenens work can take you and your career in 2018. Browse our open positions, sign up for our free job alerts, and connect with a recruiter today!