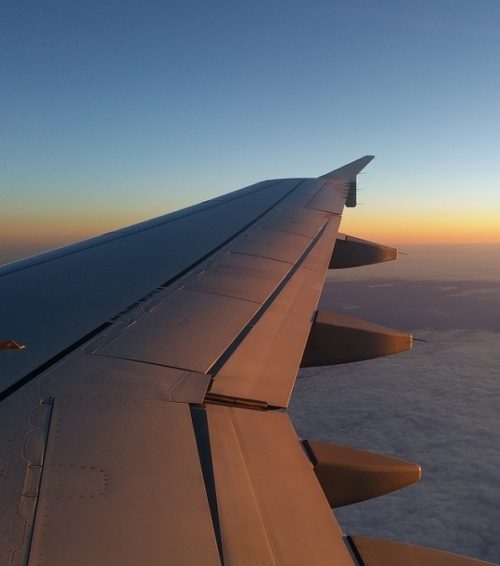 One of the most popular reasons healthcare providers choose to do locum tenens work is the ability to travel. In a recent industry poll, almost 40 percent of providers cited travel opportunities as the reason they chose this career path.
More than a year ago, I started working in provider relations with Barton's national accounts teams. I have traveled more in the last year than I previously did in my entire life. Our team is composed of ten people, and every day at least one of us is on the road.
Travel can be amazing, but also stressful, and we have learned some things to make it easier. We wanted to pass them on.
Learn Airport Efficiency Tricks
Navigating the airport, especially if it's large and busy, can be tricky. There are a few things you can do to make it easier.
First, get TSA PreCheck or Global Entry. This can make packing much easier and also cut down on the time you spend waiting in line for security. If you have either of these, you get to stand in a dedicated security line that is often much shorter, everything stays in your bag (including your computer and toiletries), and you do not have to remove your shoes.
A parking pass can make getting in and out of the garage a breeze. For example, at Logan Airport in Boston, you can get a parking PASSport. You wave it at the garage gate when you go in and again when you leave; it charges the credit card associated with your account and emails you a receipt. No more keeping track of tickets and waiting at kiosks!
Another tip I have embraced is to always park in the same place. I park on the garage's sixth floor, near the entrance to my terminal. This saves time looking for a spot on lower floors and it saves headaches having to remember where I parked and look for my car.
Don't Skimp on Travel Gear
Having good travel gear, particularly a durable bag, can make all the difference. Airline workers use and swear by Travelpro, so that is the brand I went with. My suitcase has rolled many miles and the wheels, zippers, and handles are all still in great shape.
Having a lot of pockets and organizational areas makes packing a breeze, and if you need to bring a laptop, get a bag that has a built-in laptop sleeve or compartment. A few people on my team swear by using a backpack so both arms are free. Backpacks are generally easier to carry and cause less physical pain because they don't affect just one arm or shoulder.
Between trips, I make it a habit to leave things in my suitcase. I have separate toiletries that I only use when I travel, and I keep them in my bag when I come home. That way, I just need to add clean clothes and I'm ready to go. This method helps me pack quickly and not worry about forgetting things.
One thing to make a permanent resident of your carry-on bag is wireless headphones. They're great for ease of use, especially when it comes to traversing the airport. I have taken many phone calls using my wireless headphones while walking through airports, and it's been a life-changing experience. No more being tangled in cords!
For one physician's packing list, check out "What You Need to Pack for a Locum Tenens Assignment."
Take the Power Back
Dead batteries, and a lack of power in general, are a huge drag. You can often find people in airports crowded around power outlets, waiting their turn to charge their electronics. One of the items I never forget when I leave the house, whether it be for a few hours or a week, is my external battery for my phone. I have a large-sized Anker battery that can charge three things at once and can charge each thing multiple times.
You can also get a Mophie case, which doubles your phone's battery life. Another good thing to keep on hand is a cord that can plug into a single USB port and charge multiple types of items at once. Finally, you can buy an adapter that plugs into your car, which is handy post-airport when you may have a long drive ahead of you.
Get Enough Sleep
It can be tough to get a good night's sleep in difference places. It usually takes me two nights to get used to sleeping in a new place, which can be problematic when I often stay only one night. A few of us have purchased a white-noise machine, which can soothe you to sleep. It's also small enough that it doesn't take up too much room in a carry-on bag. Taking melatonin, a natural sleep aid, can also help.
When it comes to sleeping on planes, my team swears by the memory foam neck pillow with a side zip pocket. You can fit a sleep mask in the pocket, which can also help you catch some winks on a flight.
Earn Points, Points, and More Points
Sign up for loyalty programs or frequent flier programs with whoever you use. The points will accrue each time you travel. Regardless of who books your travel, you get to keep all your points. The more you fly and the higher your status, the more points you earn. You can earn points toward free flights, nights in hotels, and other perks to make future travel easier. You should get a travel rewards card, which can compound with the points you earn from the airlines and hotels. You will be surprised to see how fast things add up!
Status can also help you get some great perks. You can get checked bag, change, and upgrade fees waived or dramatically reduced, or maybe score some free upgraded seats. With JetBlue's Mosaic status, your checked bag is one of the first ones to come off the plane at baggage claim.
For answers to FAQs related to locum tenens travel, read "Travel Tips for Locum Tenens: 4 Common Questions, Answered."
There you have it! These are some of my team's best tips to make frequent travel easier and hassle-free. What about you? Share your favorite tricks from traveling to your locum tenens assignments with us on Twitter @bartonlocums!