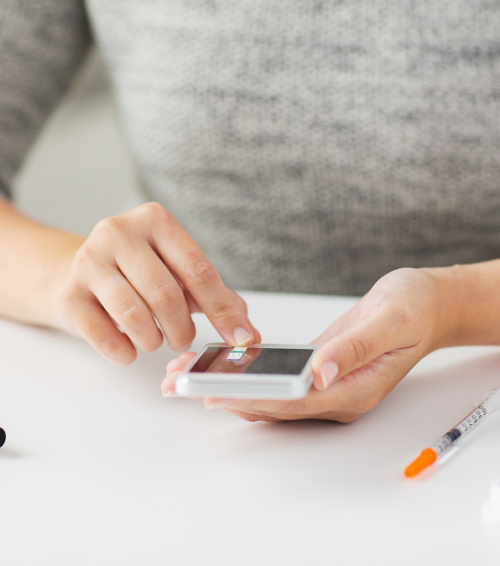 Diabetes is a condition that requires constant management. Those with the disease must make wise diet choice, monitor their blood glucose levels, and be able to act appropriately when undergoing a hypoglycemic attack.
Traditionally, patients learn how to manage their condition during their visits to the doctor, but those lessons only go so far.
"Diabetes patients typically see their doctor once a quarter. That leaves 8,700 hours where patients are left alone to manage their condition," said Demir Bingol, vice president of commercial marketing and commercial development at WellDoc.
WellDoc has created a mobile diabetes system that puts patients' care plans in their pocket 24/7. Patients can set reminders for their blood glucose checks, get advice on diet choices, receive alerts if their levels are out of range, and read instructions on how to correct dangerous readings.
Beginnings
WellDoc was founded by Suzanne Sysko Clough, MD, an endocrinologist who became frustrated with the traditional approach to educating patients about disease management. There were patient coaching products and methods available, but none showed an appreciable improvement in patient outcomes.
Everything changed when Clough realized all her patients had one thing in common, a cell phone. That's when she considered the possibility of using a smartphone to manage diabetes.
Her realization led to the development of WellDoc's product. Clinical trials have shown that adults with type 2 diabetes who used the application "achieved statistically significant improvements in A1c". The FDA has also cleared the WellDoc product as a class II medical device for real-time coaching and feedback for adult patients with type 2 diabetes.
The WellDoc product improves diabetes self-management through three components: the patient coach, The Automated Expert Analytic System, and clinical decision support.
The Patient Coach
The patient coach provides real-time feedback and reminders based on the users' inputs, providing information at the relevant moment. For example, if a patient undergoes a hypoglycemic event, the application will coach the user on what to do. Because the user is learning that important information at the time he or she is experiencing the event, the information is much more likely to stick, Bingol said.
"If you were learning a foreign language and only given four lessons each year, you wouldn't retain much," Bingol said. "But if you were hungry and at that moment learned how to order food at a restaurant, that information will likely stick with you. That's the same principal here."
A handy feature is that the patient coach provides real-time feedback for users even when the phone has no signal.
Automated Expert Analytic System
WellDoc's Automated Expert Analytic System further analyzes trends in users' data and makes recommendations based on behavior patterns. For example, the system may recognize that a patient has experienced a number of hypoglycemic episodes within a particular period, and will send a message with suggestions on how to help manage his or her condition.
The Clinical Decision Support
Finally, the clinical decision support feature shares users' information with their doctor. Physicians who elect to participate in the program may receive a fax with patient information or they may login to an online portal. Within the online portal, physicians can organize patients according to risk or other data points, allowing them to manage their patient population. Physicians can also message patients through the portal and print out reports before appointments.
What's Next?
Right now, WellDoc's product is available as DiabetesManager® and is only available to employer groups and disease management organizations through WellDoc's corporate partner, AT&T. According to Bingol, WellDoc will be launching a prescription version of their system directly available to providers early next year at which time clinicians can prescribe the application to their patients much like a pharmaceutical product.
WellDoc is also evaluating their platform's ability to manage other chronic conditions.
What do you think about WellDoc? Will it help your patients? Tweet us
@bartonlocums
!