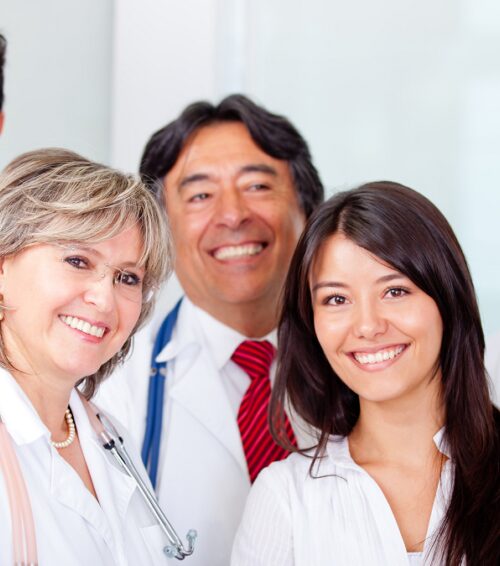 What is locum tenens? Well, depending on your role in healthcare, your definition could be different than a patient's or a facility's. A patient, for instance, may see locum tenens as a way to get an appointment within a more reasonable time frame, whereas a facility may see a convenient way to handle a short-term staffing problem. With tens of thousands of medical professionals traversing the country, working in a collection of fields including healthcare, legal, clinical research, and so much more, there's effectively no end to the values of locum tenens services.
It's much the same story for providers themselves. As the frontline in a field fraught with shortages and unexpected change, locum professionals come from any number of specialties and training programs — and discover any number of reasons to love the work. We spoke with five providers to learn what locum tenens means to them. Here's what they had to say.
Achieve Greater Freedom and Flexibility
Working in healthcare can be professionally and financially rewarding, but the scheduling practices are often restrictive and demanding. This is undoubtedly why all five of our interviewed clinicians praised the flexibility and freedom of locums work. When you've had a taste of the standard healthcare career, a track that effectively lets you pick your own schedule is a major draw.
"I'm able to take any day off that I chose, including holidays," said Sophia, a family nurse practitioner with three years of locum experience. "If I want to work four 10-hour shifts instead of five eight-hour shifts, this can happen as well."
Mark, a veteran certified registered nurse anesthetist (CRNA) with roughly two years of locum work under his belt, echoed Sophia's praise: "I can work when I want and take time off when I want."
These quotes highlight how disruptive and even unpleasant a standard healthcare career's schedule can be. Though long, brutal schedules are both a trope and an expectation in healthcare, locum tenens can provide a more flexible way to clock your hours.
Keep Your Skills Sharp
Scheduling isn't the only place in which locum tenens work adds flexibility. Mark, for example, enjoys freedom in other capacities: "Three out of four clients have me working independently, making my own decisions, etc. I have the pleasure of working 'with' other physician anesthesiologists and nurse anesthetists, not 'for' them."
Indeed, the ability to work in multiple settings is another common perk, with everyone offering a different perspective on its benefits. For Renee, a certified nurse practitioner (CNP) with nearly 30 years of healthcare experience, decades of locum work was an effective way to continually sharpen her clinical skills: "Staying in one practice for years can cause a person to see things through only one lens. I feel like I can see the 'big picture' better now."
Meanwhile, Sophia addressed the negative effects that sink in after spending a long time in one place: "I never feel complacent the way I did at my permanent job because I am always kept on my toes and learning something new."
Several providers also noted a special gratification that traveling professionals experience: knowing one's skills are very much needed. For instance, Renee and Sophia both said clients seem "grateful" for their presence upon arrival — a testament to the tough situations facilities often face before calling a locum tenens agency for help.
Avoid Toxicity and Workplace Drama
In a field such as healthcare, where dozens or even hundreds of highly skilled and determined professionals interact, interpersonal clashes are an unfortunate reality. Several respondents noted how locum tenens work has helped them avoid the rigors of workplace drama and even toxicity.
Take Melissa, a 15-year CNP with years of part- and full-time experience as a locum. Because she was "never in one place too long" during temporary assignments, she said she was able to avoid personality conflicts: "Even if you do your best to avoid it [at a regular, full-time job], there are going to be times when you can't escape," she said. "At a temporary position, people tend to keep you out of it. And if there are problems, you're never there long enough for it to be a real issue."
Renee offered a similar perspective. The first NP job she held was "deeply troubled," which she learned after committing to work there. Shortly after starting, she said, "it became evident to me I had made a huge mistake."
A temp service she contracted with shortly thereafter, meanwhile, showed her the light: "Never again would I take a job without having the ability to first work in the environment before committing permanently. Even when I contract directly with an employer, I still opt for short-term contracts now."
Today, Renee lists "not being pulled into office politics" as one of her favorite aspects of locums work. This isn't surprising, given her experience at her first NP job. If these concerns sound familiar, a locum assignment may be what you need to rekindle your passion for healthcare.
Experience the Perks of Agency Support
Working as a locum offers another distinct benefit: You ultimately report to the agency that deployed you. For Dan, a primary care physician assistant, this perk has also spared him during the rare situation in which a client organization treated him unfairly: "There was what I guess I'd call a 'scheduling misunderstanding,' and they weren't budging despite being in the wrong. I called [the agency I work with], and they were able to line it out in about a day, no problem."
Sophia added that agency support can also help smooth out interpersonal issues. "One time during my first week on assignment, the office manager treated me poorly and unfairly," she said. "I mentioned it to my recruiter, and she passed the word to her contact at the site. When I returned to work the following week, the office manager apologized and was respectful for the rest of the assignment."
Other bonuses have less to do with fixing problems and more with easing the administrative aspects of locums work. For one example, Mark mentioned Barton Associates' "free secretary service" as a major benefit: "I don't have to worry about any billing, hotel reservations, etc. I just show up on time, do what the client needs me to do, and submit an accurate time sheet." Other interviewees mentioned similar benefits, with Dan citing the simplicity of "getting assigned and showing up to work" as compared to hunting for jobs himself as an independent contractor.
Considering a Switch?
Like any role in healthcare, locum tenens work isn't without its challenges. All respondents mentioned the need for a locum to be quick on their feet. As Sophia said, successful temporary professionals will be able to "hit the ground running" for client organizations that need immediate help. Other respondents mentioned a lack of paid sick days and other standard job perks as a challenge, if not a dealbreaker.
That said, it's fair to say the pros far outweigh the cons. If you're a certain type of healthcare professional — one who enjoys a greater degree of flexibility than the average permanent role requires or one who works best when they know their labors are truly appreciated — consider starting or continuing your healthcare career as a locum. For our five interviewees and thousands of other locums who have made travelling healthcare their vocation, it's certainly been worthwhile.
What is locum tenens to you? Are you ready to make the switch? Start your locum tenens journey

today!