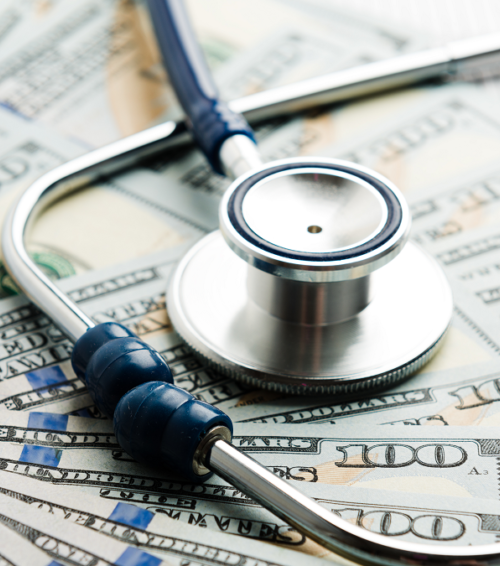 Physicians, NPs, and PAs are increasingly being asked to take responsibility for lowering healthcare costs. Most healthcare providers agree they have a role to play in controlling costs, but there's only so much they can do. Many are unaware of the price tags associated with tests and procedures, or they choose not to consider cost when making medical decisions.
A recent study from The Dartmouth Institute for Health Policy and Clinical Practice found that while the vast majority of surveyed physicians (92.2 percent) said they felt responsible for managing costs, less than half (roughly 37 percent) actually had a firm understanding of the costs of tests and procedures.
The Dartmouth Institute study was published in the American Journal of Managed Care as part of a test designed to measure physician knowledge of and familiarity with "Choosing Wisely," an American Board of Internal Medicine Foundation initiative created in 2012 to assist physicians with identifying low-value healthcare services, such as unnecessary imaging. These services are regularly expensive and time-consuming, yet offer little real benefit to the patients in return for their time and money.
Making physicians, NPs, and PAs aware of the costs of tests and procedures should be a priority for every hospital and care facility. In 2011, the Wall Street Journal reported that hospitals that educated providers on the costs of blood tests lowered their daily bill for those tests by as much as 27 percent. Similar studies have found equal or greater savings for other types of testing.
How Do Doctors Feel?
Dartmouth Institute researchers found that about one-third of physicians actively tried not to think about costs while making treatment decisions. Another one-third said it was unfair to ask doctors to juggle cost- and health-consciousness at the same time, and the last third stated they were simply too busy providing care to be concerned about costs.
Primary care physicians, the study noted, reported feeling more pressure from patients to order tests and procedures than did doctors in other specialties. More than 68 percent of PCPs said patients pressured them, while only 58 percent of medical specialties and about 56 percent of surgical specialties reported the same.
Given their increased contact with assertive patients, PCPs were more likely to be aware of the Choosing Wisely campaign than their medical or surgical peers. They were also more likely to agree that the campaign provided them with the tools and information required for reducing unnecessary tests and procedures.
Some Important Takeaways
Though the study was limited in scope (it only surveyed physicians at Atrius Health), its findings offer key lessons regarding the containment of healthcare costs and low-value care.
"Our analysis points to the fact that there is willingness on the part of physicians to forgo low-value care services, if they have appropriate support that addresses patient demand, malpractice concerns, and other drivers of overuse," said Carrier Colla, lead author of the Dartmouth Institute study.
"But, it's also clear that to get a meaningful reduction in the use of low-value services, we need to engage more than just physicians. The behavior and attitudes of patients, regulators, and other stakeholders all play a part in the consumption of these low-value services," Colla continued.
Engaging with patients, regulators, and others is a big task, and hospitals can't handle it alone. What they can do, however, is share essential information so physicians can incorporate costs into their treatment plans.
How Hospitals, Practices, and Other Healthcare Facilities Can Help
Medical professionals have traditionally been insulated from information about the costs of the tests, procedures, and treatments they regularly order for patients. That has to change. Oft-repeated concerns over rationing or denial of care are not justification enough for ignoring cost.
For too long, the idea of sharing financial information with physicians was considered near-taboo. It created a healthcare environment where doctors had little to no comprehension of just how much their recommendations cost. When (or if) physicians were informed, they were shocked.
"There was no telling anyone when, or when not, to order a particular test," Elizabeth Stuebing, a fellow at the University of Miami's Miller School of Medicine, told the Wall Street Journal. "We never see the dollar amount of anything. The first week I stood up and said that in the previous week we'd charged $30,000 on routine blood work and I could hear gasps from the audience."
Simply put, physicians have a professional and moral interest in preserving medical resources to serve society. Medical schools should begin cost education earlier, with training on how the insurance system works and how treatment costs alter patient behavior. Facilities need to educate their physicians to ensure they understand finances just as well as they understand every other aspect of healthcare. The pressing demand for effective, affordable care requires it.
Long-standing concerns over whether to include providers in the cost-analysis discussion make sense, but don't change the fact that giving them the information they need to make good treatment decisions can only help them provide better care. It might make them more apt to avoid low-value services, and let's face it — everyone benefits by knowing more.
Physicians, NPs, and PAs: What do you think? Do you want to know the details about care costs? Tweet us
@bartonlocums
.