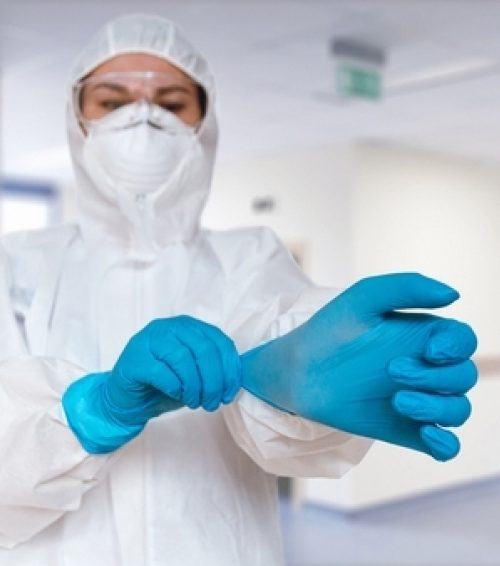 It is no secret that the past year has been a challenge to people all around the world. From social distancing to trips to the ICU, it is safe to say that we all can't wait to go back to normal life. Healthcare workers, in particular, have been on the front lines of the COVID-19 pandemic since the beginning. They have put not only their lives at risk, but their loved ones as well, to keep us safe as best they can. Gail C., MD, has been working seemingly endless hours since this all began last March. She took the time to speak with us before departing for a much-needed and deserved break to tell us about her experiences. This is what she had to say:
Q: What has the past year been like working during the pandemic?
A: From the patient standpoint, it was hot, sweaty, stressful. The diminished ability to care for patients and quick deaths and deterioration provided a new level of hopelessness. We did everything we could – if there was space, we transferred the patients to the tertiary care facility.
Q: What specifically have you been doing to fight COVID-19?
A: For the first 12 months I'd been studying and learning as much as possible as the knowledge base exploded, being a great steward to the hospital and the community, helped create that hospital's Scarce Resource Committee, and wrote articles about the importance of wearing masks. The exhaustion from that has led to a three month sabbatical I'm taking now – currently in Belize.
Q: What has your patient load been like?
A: 35 patients/ day has been fairly standard. I'm thrilled if I get into the 20s. I've seen as many as 50 – taking an utterly exhausting 14 hours.
Q: How has working through the pandemic affected you mentally?
A: The mental exhaustion from the pandemic should not be underestimated. Keeping up with all the new information was one thing, but seeing how little we could actually do for patients was something else. And the knowledge that my family quarantined at home and that their risk was coming 100 percent from me for the longest time was the biggest strain.
Q: Have you seen locum tenens providers helping out with the pandemic? If so, to what effect have they had?
A: Locum tenens providers help the currently based physicians maintain their own schedule and (sometimes) census during these surge capacity times. I've seen some full-time people so overwhelmed – and with 11 deaths in 11 days – who wouldn't be. The surprising assist came when the people that could receive the vaccine. The side effects caused such severe symptoms that I personally covered (increasing my census) for two days after the second dose and one after the first. I'm "old school" so have the endurance, but it does wear on me.
Q: Walk us through what a typical day for you is like during this pandemic.
A: A day in the life of a healthcare worker during the pandemic:
0400 – Wake up, breakfast, creative writing
0530 – Head to hospital – start pre rounds (EMR)
(if I'm responsible for "making" the list, office by 0530 so pre-rounds at 0400 – and everything goes earlier)
0700 – Go to office, obtain new patient assignments and review new patients
0800 – Check telemetry (Med-Surg and ICU)
0815 – Start rounds – non-Covid patients first to reduce risk of their exposure
1000 – Interdisciplinary rounds
1100 – Lunch
1115 – Rounds – Covid patients, Med-Surg units, ICU, Remote ICU (PACU created unit)
1400 – Admissions and notes through the remainder of my shift (any morning admissions are "squeezed in" and the OBS unit patients are usually seen there)
1900 – Sign off to night hospitalist
1915 – Massage
2100 – Go home, shower, fall into bed
There is not much time for excitement or fun.
Want to learn more about locum tenens with Barton Associates? Fill out the form and one of our representatives will reach out to you!