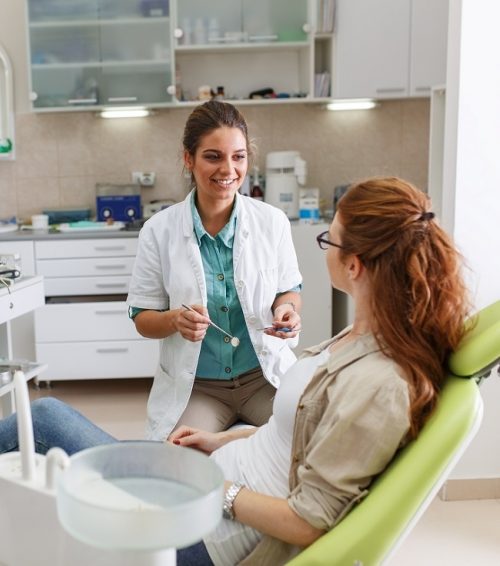 Working as a locum tenens dentist offers new and exciting opportunities to learn to work with new teams and meet new people.
Meeting new hygienists presents its own special challenges. Hygienists have limited time and mountains of responsibilities, but still they are responsible for the complex task of introducing me to many of my patients. It's important for me to make the effort to get in touch with them before the arrival of the first patient.
Patient introductions are complex. Communication is a three-way street when a dentist is in the hygiene room because of the great deal of information that needs to be transferred while the patient is present. While the dentist and the hygienist are providing and collecting information the patient is collecting information and forming opinions.
Experienced teams have learned to capitalize on this dynamic. Effective three-way information transfers promote efficiency and result in better patient understanding of their health conditions. Poor communication, on the other hand, can be costly. Information that comes late, or not all, will result in negative patient experiences and loss of trust. Patients who don't hear the dentist say anything may assume that the dentist is aware or simply doesn't care about their health issues.
Before seeing patients on my locum tenens assignments, I try to talk with the hygienists aside from the rest of the team to discuss communication protocol. I am ready to listen to the hygienists' own preferences and I am prepared to adapt.
When asked about my preferences, I am prepared to answer with the simple and direct response that they deserve. It's important to start on common ground, and lay the foundation for the rest of the assignment.
If you are going to work like an orchestra, you're going to need to understand each other.
Different dentists have different preferences, but here are seven pieces of information that I like to hear from the hygienist when I arrive for a patient exam. I like them to be presented in a way contributes to the patients understanding, as well as my own. If I know these seven things early, then I can get through almost any recall exam stress-free.
The patient's name. Please introduce me. Repeat the patient's name if you can.
Anything new on their medical history, especially anything you learned during the visit? Please say anything especially pertinent out loud, even if you know that I am aware of it, because the patient needs to know that I am aware of all pertinent medical conditions. It is important for patients to understand what the doctor knows about them.
Are they on time for their recall exam, slightly behind or has it been a while? Also, let me know if they are on alternating recall. This may be important to treatment planning, but it also stresses to the patient that a timely recall exam is more effective than a late one, and the doctor takes that seriously.
How was the patient's hygiene today? Was the patient having challenges in home care, and what suggestions were made to make improvements? If the hygiene was excellent, let me know. Of course, the patient's home care makes all the difference. Transferring information in front of the patient reinforces what the hygienist said during the hygiene visit and gives the dentist the opportunity the bring it up a third time when presenting treatment.
What radiographs, photographs, letters from specialists or other adjunctive information is available?
Any treatment that was recommended in the past but was not completed? I need to know the difference between old problems and new ones before I start.
Anything new that you observed today or any new complaints that the patient made?
This may sound difficult but it can be quite easy. A good introduction will take between 30 to 60 seconds to complete, which leaves the dentist plenty of time to perform a good exam and discuss everything that needs to be discussed.
A typical patient introduction may sound something like:
"Mike, this is Dr. Rickard, he is here to do your dental exam. Dr. Rickard, Mike alternates his three-month recall with the periodontist who he saw three months ago. You have his medical history update. Oral hygiene was good today except he had some plaque accumulation around the back of the upper molars. We went over proper brushing again. He had a cardiac ablation to treat an arrhythmia in 2006 and it has been resolved. At Mike's last visit, Dr. Smith suggested a crown on tooth #15. We took new bitewings today. Also, I noticed something unusual around the filling on the buccal of number 29."
When starting a new locum tenens assignment, it's important to start off right with your coworkers, but especially your hygienists. Connect with them about the information you'll need right off the bat, and the assignment will be smooth sailing from there.
Want to learn more about locum tenens with Barton Associates? Fill out the form and one of our representatives will reach out to you!