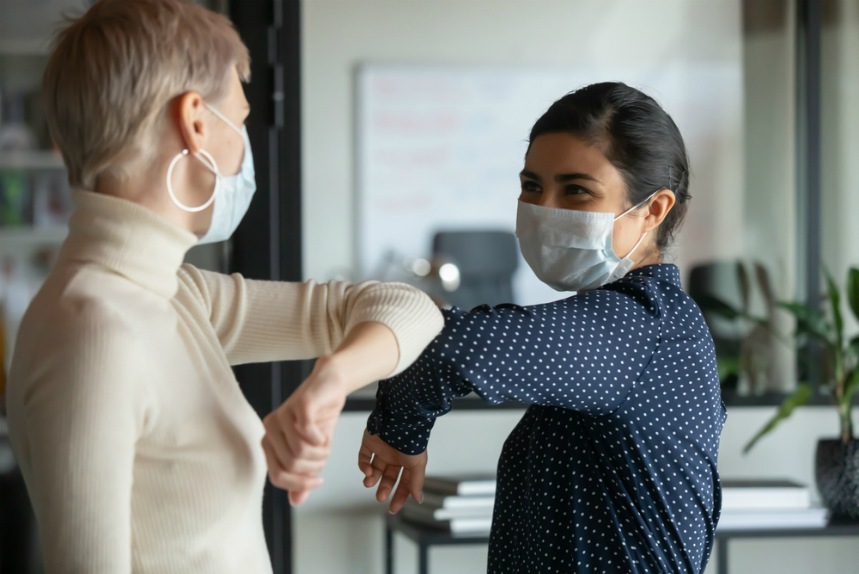 What's it like getting back to the office during a pandemic? Many companies across the U.S. have begun the transition back into the office, with a majority of employers stating that they plan to return to at least a hybrid work schedule within the next few months. This blog is designed to highlight the positives of (safely) transitioning from remote work and expel some of the fears you might be facing.
Reclaiming your work-life balance
Working from home may seem like a blessing at first, but it can quickly become exhausting as the lines between work and personal time become blurred. For some it's hard to stay focused with kids, family members, or roommates constantly drawing their attention away from work; others might find themselves working well past their normal scheduled hours and on weekends since their work is always home with them. By separating your work from your personal life, you can regain some of the balance that you may have lost over the past few months.
Getting back into your routine
Chilling on your couch in sweatpants every day can be a huge perk of remote work for some people, but let's be real- it definitely feels nice to put on a respectable outfit and get cleaned up for work! Maybe you have a nice blouse that's been stuffed away in your closet or you decided to treat yourself to some retail therapy during quarantine. Either way, taking the time to do your hair and put on an outfit that doesn't pass for pajamas will feel great.
Returning to work with a fresh perspective
Coming back to your office—or entering a new office if you switched jobs recently—presents the perfect opportunity to reorganize your set up and approach work with a new mindset. Try changing up the layout of your workspace by moving your monitor, switching out old decorations for new ones, or even moving your workspace entirely if you can do so while socially distancing. You might also want to reconsider how you set up your day in terms of completing tasks- now that you're back in the office, how can you organize your work week to increase your overall productivity?
Know what to expect in terms of changes
Although regulations may vary by state, every company's top priority continues to be ensuring a safe and sanitary work environment for its employees as laid out by the CDC. At Barton Associates, our day-to-day operations look much different these days. Within each of our offices, walkways are marked with arrows to maintain more organized social distancing by having people move around the office in a predictable pattern. We've also ditched our "pod"-style layout to promote social distancing by limiting the number of individuals allowed to sit at each cluster of desks. With safety measures such as these in place, we are working diligently to create a safe and comfortable environment for our employees for the duration of the pandemic. Check with your employer to make sure you understand what safety precautions are in place for your return and stay updated on any changes that may occur as restrictions are lifted.
Unemployed due to COVID? Looking to make a career change? Whatever your circumstances are that lead your job search, check out Barton Associates! We are hiring for entry-level sales and recruiting roles nationwide to meet the current demands of the healthcare staffing industry. Visit our locations page to find an office near you.
This blog has been updated since its original post date on 7/28/2020 for clarity and accuracy.