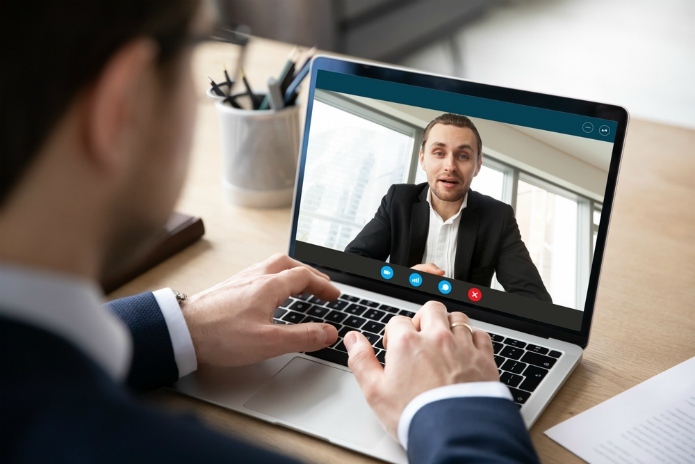 Video interviews have become a staple in the hiring process whether we like it or not. Regardless of whether you're totally comfortable in front of a webcam or are terrified by the thought, there are plenty of things you can do to prepare for your next webcam interview to make it a successful one.
Make sure your tech is up for the challenge
Having a webcam and working microphone are obvious essentials for a video interview, but it's important to ensure that both of these tools work well. Hop on a video call with one of your friends or family members prior to your interview to test your audio and video. If you find that your webcam is blurry or your voice sounds funky, you may want to surf Amazon for some tech accessories. Additionally, having a stable internet connection is a must- there's nothing worse than having to say "oop- can you hear me now?" every time you try to answer a question.
Minimize distractions for yourself
With everyone being confined to their homes for the past few months, it can be difficult to find a quiet, private place to work or conduct interviews. If you have roommates, children, or noisy family members surrounding you at all times, consider putting a "do not disturb" sign outside your door and stress the importance of minimizing interruptions. If you are worried that something out of your control might happen, such as a noisy siren outside or scheduled fire alarm maintenance in your apartment building, you should definitely give your interviewer a heads up beforehand.
Set the stage
Because your interview is taking place in your home office, kitchen, or even your bedroom, it's up to you to create a professional environment. If you can't sit facing a window or other source of lighting, you can purchase a cheap ring light to get that selfie-quality lighting that's perfect for the camera. Additionally, try to pick a wall or background that's a neutral color and has as few distractions as possible. Clean up the clutter, take down any embarrassing photos, and do anything else necessary to allow your interviewer to focus solely on you.
Get comfortable- but not too comfortable
Again, because it's up to you to create the perfect environment for a successful interview, you also need to figure out how you will remain physically comfortable during what could be an hour-long interview. While you may be tempted to sit in your favorite recliner or at the foot of your bed, you want to get into the interview mindset by seating yourself in a chair that allows you to maintain good posture and minimizes fidgeting.
Use your notes!
One upside to virtual interviews is the fact that you can be a little more clever with your notes by putting them right on your screen, giving the appearance that you aren't referencing anything at all. This article provides a step-by-step guide for configuring your screen so that it's split between two windows, meaning you can have your video on one half and your notes or resume on another.
Remember- everyone feels just as weird as you do
Unless you're applying for a major corporation with offices across several states or countries, the person you're interviewing with is probably new to webcam interviews as well. It's okay to be nervous and acknowledge the strangeness of it all, but treat this interview just as you would an in-person one- nod and smile in response to questions and statements, maintain eye contact by looking at/near the webcam, think your answers through, maintain good posture, and be sure to ask follow-up questions.
Barton Associates is hiring! Find an office location near you and apply for one of our entry-level sales roles today!