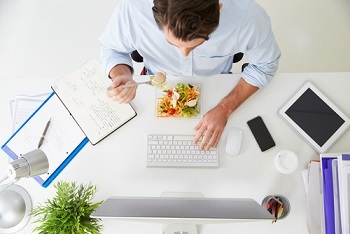 According to JustStand.org, the average person spends about twelve hours per day sitting. Add roughly eight hours for sleeping, and that means that we are only on our feet moving around for two hours on a typical day. This sedentary lifestyle is damaging to our health, but it's difficult to break the sitting cycle when you have a full-time job that requires you to sit at a desk. If you couple this with poor eating habits as well, you're not doing your body or your productivity levels any favors. However, there are plenty of ways to maintain a healthy lifestyle and stay active even if your livelihood requires you to stay put.
– Take short, frequent breaks throughout the day
Leaving your desk for five minutes at a time to walk around the office, stretch, or eat a snack is a perfect way to decompress your mind and keep your blood flowing. There have been several studies and articles published that suggest that taking a break every hour or so can increase productivity levels as well! If you have a phone-heavy job, try walking around with a headset on rather than sitting at your desk; if not, you can simply take breaks in between tasks to get up and move.
– Bring healthy snacks, avoid the vending machine
The trip to the vending machine in the breakroom is a good thing, right? Not exactly. While it's great to have a reason to get up and move, try bringing your own snacks and taking that same walk. This will save you money and hopefully allow you to opt for a healthier option. Additionally, bring a refillable water bottle and drink as much as you can during the day. Water has so many benefits, including boosting energy, clearing skin, and aiding digestion, and drinking all that water will send you on more trips to the kitchen- and probably the bathroom as well!
– Plan workouts and meals at the beginning of the week
This one is easier said than done, but if you set a plan for yourself on Sunday nights and stick to it each week, it will become a habit that feels like second nature. If you know you want to workout three times during the week, you can figure out which days work best based on your schedule and make it happen. Similarly, when you cook and package your meals for yourself at the beginning of the week, you have a quick and healthy choice ready to go, which will save you time in the morning and reduce the risk of opting for fast-food or excess snacking throughout the work week.
– Leave the office at lunch
Even if you don't have a specific place to go, getting out of the office will help you unwind and get moving. If you have a local gym you go to, you could even get a light workout in during this free time. Whether you have errands to run, want to make a quick mall stop, or simply go for a walk around the block, chances are you will feel much more refreshed when you return to work to finish the day.
While you're thinking of ways to get up and move, run over to our main page to see how a career with Barton Associates can be a step in the right direction!