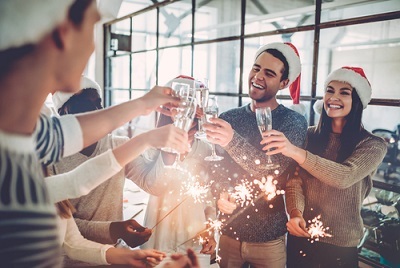 I think it's safe to say that we could all use a little boost in holiday spirit after this past year's events. Here are some low budget, creative, and social-distancing-friendly ways to brighten everyone's day at the office.
Give back to the community- even from a distance
Why not get your office together to help a family in need? Whether you'd like to adopt a family for the holidays, donate food and other essentials to your local shelter, or simply make a donation on behalf of your team, there's someone out there who needs assistance! Some organizations may be requesting monetary donations rather than physical gifts this year due to the pandemic, so make sure to verify with them before filling your Amazon cart. Either way, helping the community is an excellent way to bring everyone together and celebrate the season of giving!
Organize an ugly sweater contest
Ugly sweater contests are a fun way to get everyone together for a laugh. Plus, who doesn't love to get cozy at work? Whether the prize is bragging rights or a gift card to your local coffee shop, everyone loves to dress up and get into the spirit of holidays, so this is a super easy way to celebrate.
Create a "Wall of Gratitude"
If your office doesn't already have some sort of recognition wall, now is a perfect time to create one! You can easily boost morale and bring holiday spirit to your office space by designating a wall for people to post positive comments about their coworkers and bosses, or simply write about something they are thankful for during the holidays. Either way, this is a totally free means of bringing positive energy and cheer to the average workday.
Have a desk decorating contest
Who says holidays can't be a little competitive? Try getting your office, or even just the people who sit around you, to compete to see who has the best decorating skills when it comes to their desk space. This is a great way to brighten up the plain cubicle you spend your days in, and it will give everyone something to talk about!
A new job opportunity can be the greatest gift of all during the holiday season. Unwrap a world of possibilities by visiting our website!
Author's note: This blog has been updated from it's original posting on Nov 28, 2018.