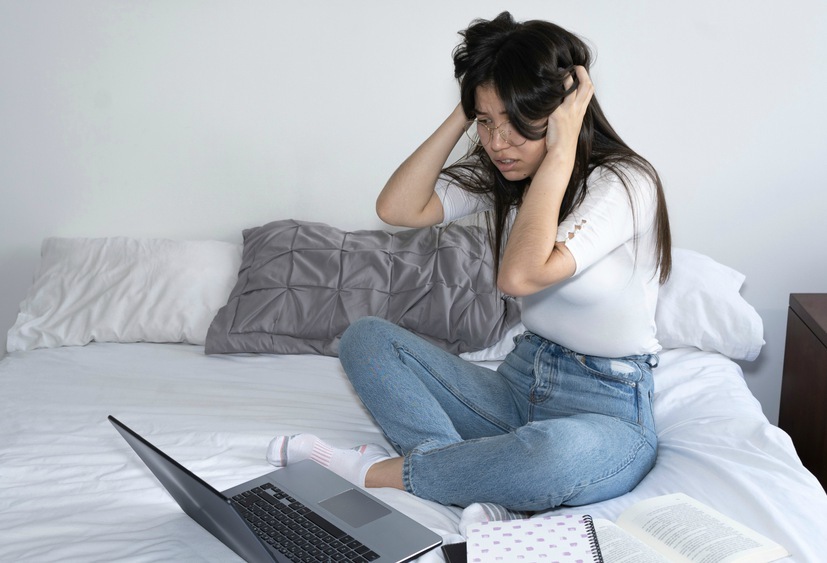 A developing study by The Chronicle and Davidson College's College Crisis Initiative has found that the majority of colleges, both private and public, have transitioned at least some of their curriculum to online for the 2020-2021 academic year. For many students, this unprecedented switch has posed significant challenges as they have had to adjust to an entirely different mode of learning.
While the 'new normal' has certainly been an adjustment for students nationwide, there is one upside to the switch to virtual learning- it can better prepare them for their potential future careers. Regardless of whether they're working in an office setting or remotely, the majority of Americans are sitting down for the entirety of their workday.
One of our earlier blogs provides some tips for getting up and moving at the office, but we're keeping students in mind for this one! Here are some ways that you can maintain your mental and physical health while succeeding in your virtual coursework.
Log off
With people spending record amounts of time online, it's more important than ever to find a way to unplug for a bit each day. Too much screen time has been linked to a variety of health problems, including blurred vision, headaches, sleep disturbances, and weight gain. How do we find time to log off, though, when the majority of our life's functions are online?
Exercise: Something as simple as going for a walk or doing a quick 30-minute workout can make a huge difference in your health, your clarity of mind, and your happiness.
Opt for printed reading/studying: If you have access to a printer, try printing out your notes and required readings to give your eyes a much needed blue-light break. It can also be helpful to take notes in an old-fashioned notebook- a method that's been proven more successful for retention than typing notes.
Swap Netflix for podcasts: Looking for a way to unwind after a long day? Listen to a podcast while you clean your room, go shopping, or just lay and relax. Other than selecting which episode you want to listen to, it's screen-free entertainment!
Separate your work space and relaxation space
I think it's safe to say that just about everyone has laid in their bed to do homework or attend a Zoom class at least once in their life. Unfortunately, working horizontally can actually be damaging to your productivity and health by hindering your ability to focus and messing with your sleep schedule. It may be difficult to find a separate space to devote solely to coursework, but doing something as simple as sitting at a desk or table can make a huge difference in productivity and work-life balance. If you can separate yourself from your work once it's done both in terms of the physical space and your mindset, you will realize the benefits quickly.
Create your schedule with you in mind
Is there a time of day that works best for you to complete your homework? Do you work in the morning or at night? How much time do you need to get ready for the day? Whatever schedule worked for you prior to 'the new normal', try to adapt that to your online learning. Go beyond writing down your class schedule and assignment due dates by taking the time to schedule the "self care" things as well, such as making dinner, grabbing a coffee, or hanging out (at a distance) with your roommates. Taking care of yourself should be a daily ritual.
Don't stress out about things you can't control
It's totally okay to admit that you have no idea what your 'next move' is – the truth is no one else really knows either! The best thing you can do right now is focus on your health, your family, your friends, and your courses. Do your best to excel at the current tasks at hand and prepare yourself for whatever the future might hold – you have plenty of time to figure the rest out.