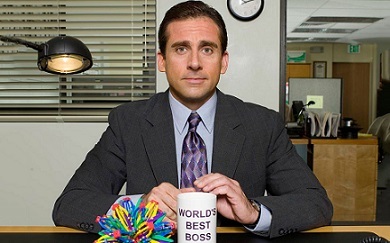 Are you starting your first day at a new sales job? We probably know how you feel– starting with a new group of people in an unfamiliar field is always a daunting task. Here are some quotes from your favorite boss and former salesman himself, Michael Scott. Whether you are a fan of The Office or not, we hope that the wise words of a paper salesman-turned-manager will instill confidence in you as you embark on this new and exciting journey!
——————————————————————————- 
How you feel as you walk in the door at 7am:
Then, when you first sit down at your desk and begin to realize how much experience you truly lack: 
Trying to connect with your new coworkers in any way possible…: 
…and even though you really embarrassed yourself in front of them, the fact that they still asked you to join them for lunch had you feeling like:
The first meeting of the day, which sets the tone for all other work meetings: 
Wrapping up your fifth phone call, in which you received your fifth rejection of the day: 

But then, when you FINALLY close a sale after all of those rejections: 
And lastly, when you turn in for the night and reflect back on the day, we hope you're feeling like this: 
Through all of the scary moments and tough starts, a new job is a chance to showcase your skills and grow as an individual in a new environment. We hope that by now you are feeling optimistic and energized as you head into your newfound career! 
Barton Associates prides ourselves on hiring dedicated, entry-level workers who are looking to grow along with a company. If you are interested in starting your first day in sales with us, click here to learn what we do!