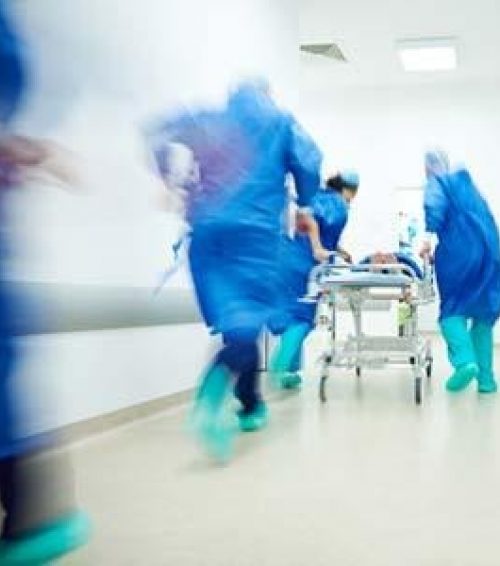 2020 was an unprecedented year for the healthcare system as hospitals around the country contended with the COVID-19 pandemic. With the Delta variant and others spreading rapidly, many hospitals are once again finding themselves with record or near-record patient volumes, according to the Associated Press. Many healthcare workers are facing burnout and high levels of stress after a year and a half on the frontlines, especially as many hospitals had just started working through a backlog of delayed procedures and screenings only to be hit with another surge of COVID-19 patients.
The strain on hospitals is being felt around the country, but some areas are more affected than others. Using data from the University of Michigan's COVID-19 Hospitalization Tracking Project and the Department of Health and Human Services (HHS), NPR has aggregated information about which parts of the country and which hospitals are under the most strain from the pandemic. According to recent data, 39% of hospitals are currently under high or extreme stress due to their percentage of COVID-19 patients. ICU capacity is another indicator of hospital strain. Wyoming is under the most stress at 57%, while Vermont is under the least stress at 0%.
The most recent data available from HHS shows that AdventHealth Orlando in Orlando, FL, has the most ICU beds occupied, followed by New York-Presbyterian Hospital in New York, NY, Methodist Hospital in San Antonio, TX, and Indiana University Health in Indianapolis, IN. The top 10 hospitals by number of ICU beds occupied are:
AdventHealth Orlando – Florida
New York-Presbyterian Hospital – New York
Methodist Hospital – Texas
Indiana University Hospital – Indiana
NYU Langone Hospitals – New York
Cleveland Clinic – Ohio
Baptist Medical Center – Texas
ChristinaCare – Delaware
Orlando Health – Florida
Orlando Regional Medical Center – Florida
Norton Hospital – Kentucky
Norton Healthcare Pavilion – Kentucky
Long Island Jewish Medical Center – New York
However, there are other ways of looking at the data, such as by total staffed ICU beds, total adult patients hospitalized and confirmed with COVID, and much more. On the NPR website, you can also search by county to see how your area hospitals are doing. In Suffolk County, MA, for example, Beth Israel Deaconess Medical Center only has 2% of adult inpatient beds used for COVID-19 patients, but 97% of adult inpatient beds used overall. In the ICU, 7% of adult beds are being used by COVID-19 patients, compared to 95% overall.
What are the busiest ERs in the United States?
The most recent data available lists Parkland Health and Hospital System in Dallas, TX, as the hospital with the most ER visits in 2019, followed by Lakeland Regional Health Center in Florida. According to Becker's Healthcare Review, the top 16 busiest ERs in the U.S. were:
| | | |
| --- | --- | --- |
| Hospital Facility | Number of Visits | State |
| Parkland Health and Hospital System | 241,968 | TX |
| Lakeland Regional Health Medical Center | 209,658 | FL |
| Los Angeles County + USC Medical Center | 180,013 | CA |
| Texas Health Harris Methodist Hospital Fort Worth | 155,322 | TX |
| St. Joseph's University Medical Center | 153,201 | NJ |
| Montefiore Medical Center-Moses Campus | 153,012 | NY |
| NYC Health + Hospitals/Lincoln | 150,647 | NY |
| Grady Health System | 150,562 | GA |
| Cape Fear Valley Medical Center | 144,343 | NC |
| Boston Medical Center | 139,577 | MA |
| Banner Desert Medical Center | 135,383 | AZ |
| Reading Hospital-Tower Health | 134,538 | PA |
| WakeMed Raleigh | 130,886 | NC |
| WellStar Kennestone Hospital | 130,733 | GA |
| Beaumont Hospital | 128,079 | MI |
| John Peter Smith Hospital | 127,516 | TX |
How can locum tenens providers help?
With hospitals either facing staff shortages or increased patient loads, especially as COVID-19 variants proliferate, the need for more healthcare providers is critical to ensuring that patients can get the care they need, when they need it.
Locum tenens providers can be a huge boon to facilities that are experiencing higher than usual patient demands, especially in areas that may already struggle with providing certain health care services. Rural areas, for example, are usually the hardest hit by physician shortages, but they suffer even more when it comes to certain specialties, like psychiatry.
With many licensing requirements waived or modified due to the COVID-19 pandemic, locum tenens providers who want to help out in busy facilities should be able to get up and running for new assignments much more quickly than they would have pre-pandemic. The departments with the most need will vary based on several different factors, but locum tenens providers can use the previously mentioned data sources to determine which cities, states, and facilities are seeing the most strain in terms of patient volume. This can enable locum tenens providers to find out where they may be able to best put their skills to use.
It may take a while for healthcare facilities to return to their pre-pandemic levels, but some may continue to need additional help as they work through their backlog. This can help provide locum tenens providers with even more opportunities to take on new assignments.
Are you facing a staffing shortage or otherwise in need of coverage? Fill out the form to get in contact with one of our account managers.