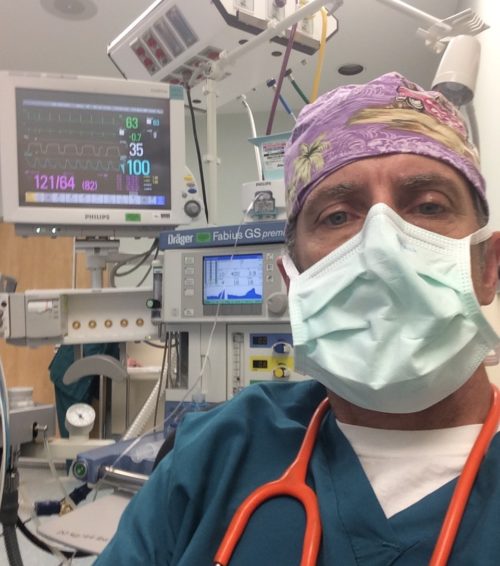 Happy National Locum Tenens Week! As a part of our festivities, we're sharing stories from healthcare providers regarding their locum tenens experiences.
Mark is a locum tenens certified registered nurse anesthetist (CRNA) who has worked with Barton Associates for about two months, traveling back and forth between Vermont and New Hampshire. In the past, he has worked positions in specialties such as critical care, intensive care, trauma, and flight nursing.
Mark has delivered educational presentations across a variety of nursing-related topics, including enhanced recovery, muscle relaxants, and visual impairment. Currently, Mark holds active licenses in New Hampshire and Vermont and is a member of the American Association of Nurse Anesthetists (AANA).
Mark generously offered to share his provider story with us for National Locum Tenens Week. Here's what he had to say.
CRNAs and Anesthesiologists Provide Comparable Quality of Care
As a CRNA, Mark was able to speak to the quality of care he and his peers bring in comparison to that of an anesthesiologist. In doing so, he detailed his extensive training. "You do anesthesia for open heart surgery, and you do anesthesia for obstetrics, and you do nerve blocks, and you do the challenging neurosurgery anesthesia cases," Mark said. "The bottom line is, we're both trained to do the same thing. We go through a like curriculum, we use the same textbooks, everything like that."
However, that doesn't mean he hasn't learned anything from them. Through working alongside anesthesiologists, Mark notes, "in a parallel model, not only do you get the input from other CRNAs, but you also get some really valuable input from anesthesiologists."
(Story continues below image.)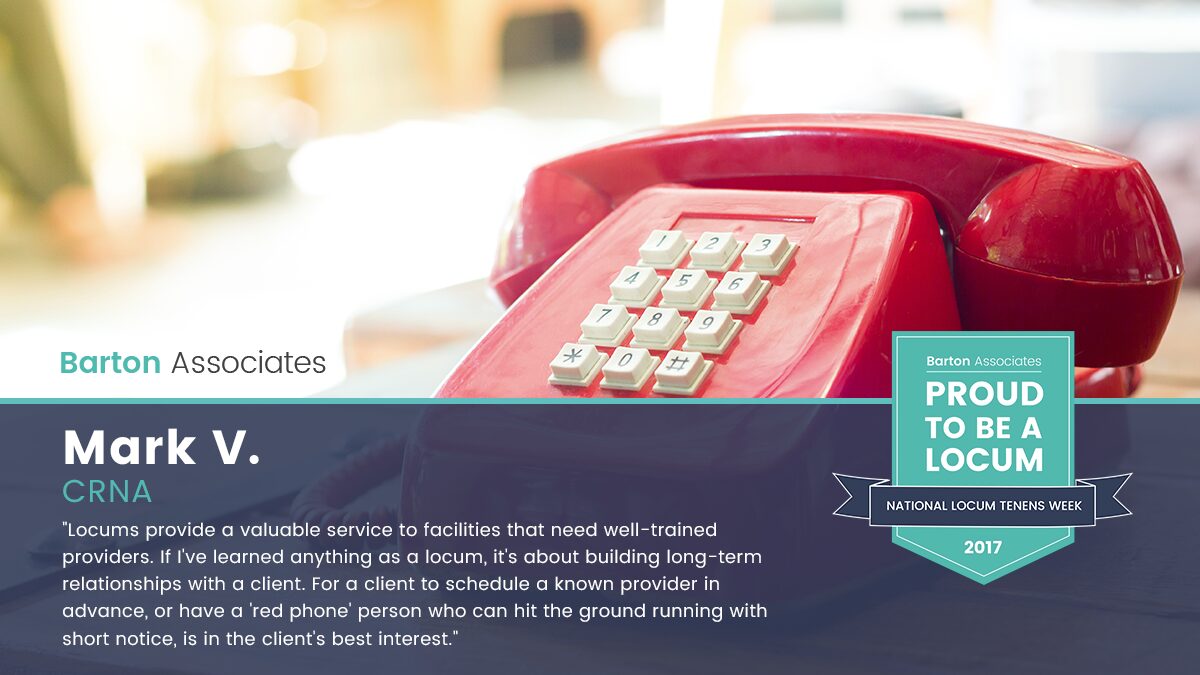 Relationships Are Key
With the extensive background he brings to his work, Mark is equipped to deliver care just as valuable as any anesthesiologist's. But, more broadly, he credits his success as a locum tenens CRNA to his ability to build strong relationships, both with the client and with his recruiter.
"When you find the right match, it's not hard to change opinions," Mark said. "Locums provide a valuable service to facilities that need well-trained providers. If I've learned anything as a locum, it's about building relationships."
When it comes to his relationship with his recruiter, Mark couldn't have found a better match. "[My recruiter and I have] worked hard, and I think we've developed a really strong communication and a really strong working relationship," he said. "I can't say enough good things about the guy. He's just been a pleasure to work with."
Because he works toward building these relationships, short-term assignments aren't as preferable. Rather, Mark prefers a longer commitment so he remains on the client's mind for potential future needs, a process he and his recruiter have discussed in hopes of changing what he calls the "locums landscape."
"I've talked at length and worked extensively with my recruiter. It is our opinion that the locum landscape has changed," Mark explained. "The most inefficient model is to take three months to credential a provider, wear them out in three months, and then everyone goes their own way."
The two have discovered a better solution through their conversations. "The model that we've developed focuses on long-term relationships with a client," Mark told us. "I'm credentialed at several facilities, and for a client to schedule a known provider in advance, or have a 'red phone' person who can hit the ground running with short notice, is in the client's best interest."
Along the same lines, Mark believes that building these client relationships can help avoid provider burnout and increase job satisfaction.
Special Travel Accommodations Are Possible
Aside from career opportunities, doing locum tenens gives providers the opportunity to travel. Mark has always brought his dog on assignments, and because of his pet's age and size, he doesn't have plans for any long-distance travel in the near future.
That said, he does ponder what considerations he may make. "I'm an outdoorsy type, so either the Pacific Northwest or Colorado, or New England, or possibly the northern Midwestern states would be attractive to me," he said.
And with these areas, he specifies, "I would look for states where they have a nursing compact so I have state-to-state reciprocity with my licensure. That cuts out a huge amount of red tape, not only for me, but also for the client and getting me onboarded as well."