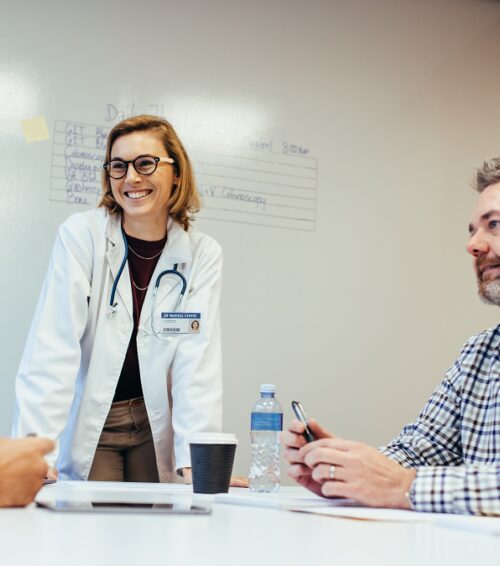 When recruiting in healthcare, it can be easy to look for candidates with the right degree — and stop your search there. Does she have a DNP? OK, hire her!
This is a prerequisite, of course. However, you should also be on the lookout for other important characteristics. Candidates may be perfectly qualified on paper, but do they display enthusiasm and dedication to their work? Do they maintain compassion and tenacity in the face of challenging environments and patient cases? Measuring these traits is no easy task, especially when you need to find coverage quickly.
Because they've practiced in a variety of settings and locations, treated diverse patient populations, and worked within different professional cultures, locum tenens providers often possess the well-rounded backgrounds staffing managers seek. If your hospital, practice, or company needs short- or long-term coverage — especially in a pinch — locum tenens staffing could be a great place to start!
In the meantime, this article suggests a few "shortcuts" you can use to identify truly well-rounded locum tenens candidates early in the screening process.
1. Credentials
All clinicians — whether a physician, nurse practitioner, or physician assistant — must maintain up-to-date credentials in order to provide medical care. These credentials should include both a license and a certification.
A license enables the clinician to practice, while the certification demonstrates their domain knowledge. For example, a license would allow a nurse practitioner to provide patient care, while a psychiatric certification would demonstrate his or her expertise in mental health treatment. If you need to hire a nurse practitioner to provide mental healthcare, look for candidates with both a nurse practitioner license and a psychiatric certification.
Identifying a top-quality candidate should involve a search for someone who has a certification in your specialty area. Certifications are only awarded when someone has passed a rigorous exam on the topic, and they are only maintained through completing ongoing education and training in that area.
Fortunately, you don't need to worry about these tedious details during the onboarding process when you go the locum tenens route. Barton's licensing and credentialing team handles provider screening for you!
2. Continuing Education
To maintain their certification, clinicians must complete a certain number of continuing education hours every year. They can earn these hours in a variety of ways, such as taking online classes, attending conferences, and conducting their own research.
When screening candidates, ask how they go about completing their continuing education. Well-rounded and engaged locum tenens providers should maintain a positive and open attitude toward ongoing learning. Medical knowledge and understanding does not stop at graduation. Top-quality clinicians are passionate, endless learners.
You could also ask about their bookshelf. Which books or medical journals have they read most recently? What did they learn from those resources? These questions will help you identify lifelong scholars.
3. Professional Involvement
Clinicians have the opportunity to join professional organizations, which enable them to speak on topics they care about, present research findings, and learn from others. This professional involvement helps confirm that an individual is passionate and dedicated to their field.
Locum tenens providers who are particularly successful within their professional organizations are called "fellows," and they receive special credentials that follow their name. For example, a nurse practitioner with the credentials "FAANP" after his or her name is a "fellow of the American Association of Nurse Practitioners," which means he or she has made an outstanding contribution to clinical practice, research, education, or policy.
4. Teaching and Mentorship
During their education, providers complete residency and clinical hours. In a residency program, they work alongside seasoned providers to learn practical skills. After they graduate and begin providing care independently, they then have the opportunity to teach students themselves.
Locum tenens providers who take on this additional responsibility must stay up-to-date on the best and latest practices and be able to articulate them to a novice. These clinicians also possess an enthusiasm for their field and an interest in working with and mentoring others: qualities that exemplify teamwork and leadership.
To review, how can you identify well-rounded, top-quality candidates early on in the screening process? Look for someone who:
Is certified in their specialty and subspecialty area.
Maintains a positive attitude and excitement toward continuing education.
Is a member and active participant in their professional organization.
Has previously taught or mentored students.
With the right support, spotting these qualities is easy! Ready to get started?
The Barton team helps you find well-rounded candidates for your open position — and quickly! Learn more

and connect with an account manager today.